Award Winner
Corbin Tayloe of Lewisville, TX is the owner of this sharp '62 Loadside. Here's what Corbin had to say:
"This Loadside started its life on Barksdale Air Force Base in Louisiana. I have been told that the Air Force used them as "follow me" vehicles. It was purchased from the Air Force by a used car dealer in Bossier City, LA. It was then sold to a person in East Texas. He did nothing to the truck and gave it to a school in East Texas, and the school was going to "fix up" the truck as a school project. The school did nothing. It was then given to Woody Thomas to haul away. Still nothing done. Woody in turn made a deal with Tom Fricker, and he was to fix it up.

When I purchased the truck, I found a small problem with the title. Because this truck had never been titled in any state, the only paperwork was a government bill of sale to the used car dealer in Bossier City, who was no longer in business! I contacted the person in East Texas who had purchased the truck from the used car dealer and we paid a visit to the county tax office with the paperwork that was with the truck. That did the trick.

I then started to "fix up" the truck. With a lot of help from my friends and Mike Dobie, it was finished in time for Dallas '95 CORSA convention. The truck was equipped with an automatic transmission and gas heater. To the best of my knowledge, this was all of the extra equipment that the Air Force ordered. I show the truck in forward control - modified, as I have added a radio, painted it white with a silver band and blue pin stripe. I now have standard 14" wheels with three-prong hubcaps. It has the bench seat that came in the truck. The bumpers have been chromed and the undercarriage painted.

I have entered the Loadside at the CORSA conventions in Dallas, Albuquerque, St. Louis, Daytona Beach, and Flagstaff."
For more info on Corbin's truck and some nice pictures, see Gary Aube's feature on the 2000 convention in Daytona Beach, FL.
In August, 2008, Scott Netherton sent me the following photo of Corbin's truck, from the 2007 Fort Worth Rod & Custom Show, participation in which is by invitation only.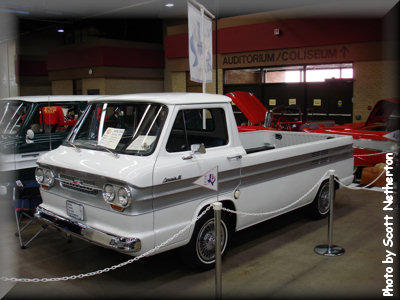 Information from the data plate
| | Description | | |
| --- | --- | --- | --- |
| STD | Standard equipment | SPEC | Special paint |
(Click on a heading in the table for more information on that item.)