Rescued but not yet Restored
In July, 2015, Gary Greenwood of Anderson, SC, purchased this Loadside from John Nickel, of Barnardsville, NC. John had purchased the truck from John Kirkman of Oxford, GA, in May 2013.
John (Kirkman) had purchased the rig in Alabama and had the following to say about it:
"I do not know anything about the history of the truck. A friend of mine told me where it was. I hooked up the trailer and drove the 225 miles to where it was located, made the deal, and hauled it home. The previous owner stated it ran but ran hot. He claimed he had rebuilt the motor not long before I got it. I didn't look at it too much at the time.

At a later date when I could look things over, I found why it ran hot: no heat shields! That's not the only thing I saw. The heads were swapped; the right was on the left and the right on the left with the crossover vacuum line hooked up with very long rubber hoses."
John described the truck as "rough but salvageable" and as "one of those 'get around to it' projects". The truck is in storage at this time, about which he said the following:
"I had other projects going on at the time, so I put it under the shed and filled up the bed with more Corvair junk. You know vans make good storage units. Of course you forget what you put there so it is like Christmas when you start looking for something... One day I will drag it out and work on it. I like to drive the FCs."
John remembers that there is some sort of evidence of a sign on the side of the truck, so it was likely used commercially at one time.
The engine currently in the truck is from a car but John has a FC engine that he plans to rebuild. The truck has a four-speed transmission.
John has owned Corvairs for many years, including a '61 Lakewood station wagon purchased new and a '65 Monza purchased new. You can read about one of John's current cars, a sharp '65 Corsa, on Gary Aube's web site.
John also owns a '64 Monza that was written up in the CORSA Communique back in the early '80s. That car was a winner at the 1980 CORSA International convention in Atlanta. John bought the Monza in 1983 and showed it for several years until he purchased the '65 Corsa.
John Nickel sent these photos the day the truck came to his house: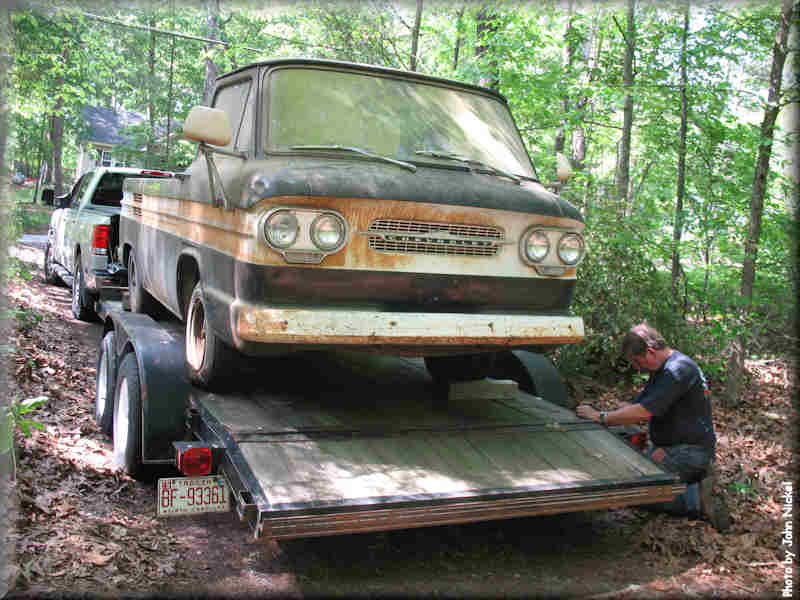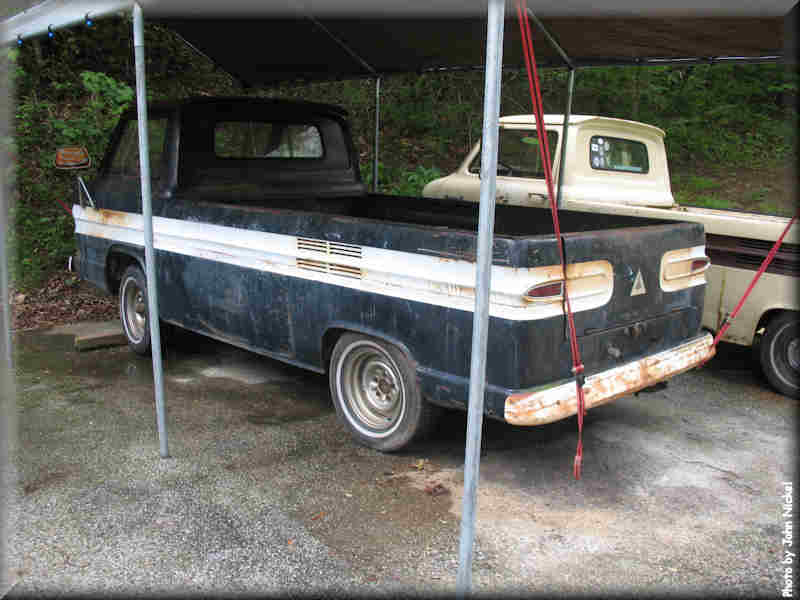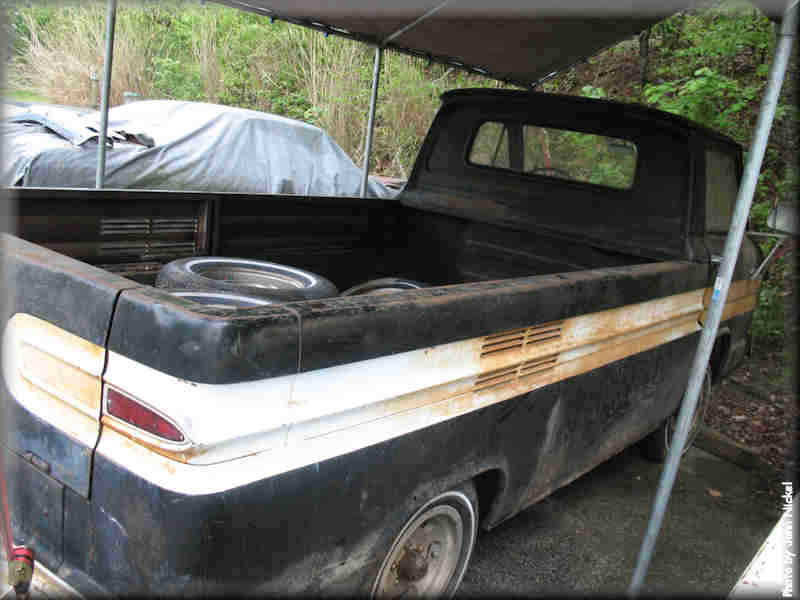 Information from the data plate
| | Description | | |
| --- | --- | --- | --- |
| STD | Standard equipment | 530J | Jet Black, two-tone (*) |
(Click on a heading in the table for more information on that item.)
(*) The meaning of paint code suffix "J" is unknown at this time.