Under new management!
In October 2001, Sam Streiff bought this Rampside from Jeff Gildea.
Sam confirmed that the vehicle is a 4-speed and that it was originally painted green-gray, but was repainted white with a red stripe (and was again re-painted in 2000 by Jeff). It currently has a '68 110 HP engine installed by the fellow in Ohio from who Jeff bought it from, but the original 95 HP came with it (and needs a rebuild).
Overall, Sam feels the truck is relatively original, solid, and runs fine.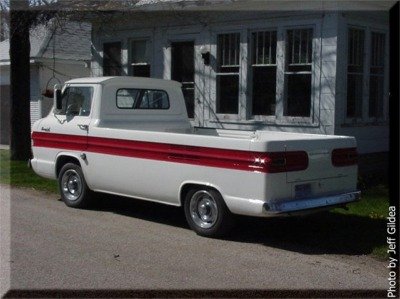 Information from the data plate
| | Description | | | | Description |
| --- | --- | --- | --- | --- | --- |
| STD | Standard equipment | 559 | Gray-green, two-tone | None | N/A |
(Click on a heading in the table for more information on that item.)