Over the Border
Dick Dean of Ontario is the proud owner of this truck (as of October 2000), previously owned by Bill Barnes of Michigan. Bill had the following to say about the truck:
"I'm the second owner. The original owner was a bulk oil dealer. He used it to haul 55 gal. drums of oil. I have owned the truck since 1985. The mileage was 56 K when I bought it, and now it's 72 K. The motor is original, and I put new rings in when I first got it. There was minimal rust which I repaired and painted.

I built a motor home from a 1965 Greenbrier in 1980, which goes with the Rampside as parts when sold."
According to Bill's classified ad in the October 2000 CORSA Communique, the truck is currently painted "bright red", has a 4-speed transmission, and is in "very nice condition". I think the photo below confirms Bill's ad!
I hope to hear some more about Dick's new acquisition soon!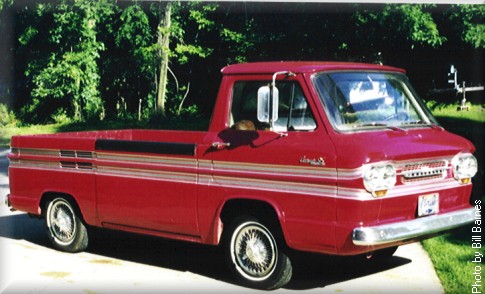 Information from the data plate
| | Description | | | | Description |
| --- | --- | --- | --- | --- | --- |
| STD | Standard equipment | 5521CA | White, solid color | none | N/A |
(Click on a heading in the table for more information on that item.)