Double digits
John Habegger of Lakeland, FL purchased this very early production '65 Greenbrier, the 73rd unit off the line, in the spring of 2001. The van was unfortunately in very rough condition; John used it as a parts source for the restoration of his also-rare '64 8-door Greenbrier. The van was scrapped in September 2002.
Randy Kaserman, the previous owner, had the following information to share:
"I bought this Greenbrier in 1997 from a used car dealership in Canton, Ohio. It had belonged to the former owner of the dealership who had left it with the business. It had been parked in one of the un-used service garages since 1974 with 78.134 mile on the odometer. It is an automatic and is missing both rear seats. The original truck engine is missing. It has a '63 car engine in it, much to my dismay. Otherwise, the van is complete and original.

The owner of the dealership offered to sell it to me for $200.00 so that he could get it out of the garage. Naturally, I couldn't pass it up. Of course, after sitting for nearly 25 years, it would not start, so I towed to a friend's pole building and stored it there.

I was going to attempt a restoration of the van, but upon further inspection I found some pretty severe rust on the underside and cross-member, and some structural damage on the side door pillars. I believe it is restorable but I did not have the time or resources to pursue such a project.

I have cut my collection of Corvairs down to just one, a 1964 Monza sedan. It was my first Corvair, and still my favorite, although I have owned several FCs over the years. I am a high school band director so my free time is too limited for many projects."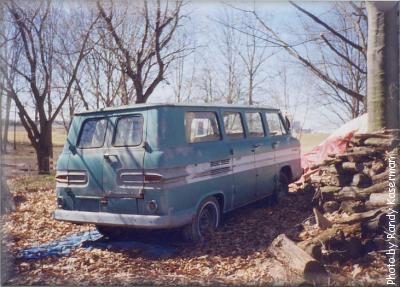 Information from the data plate
| | Description | | | | Description |
| --- | --- | --- | --- | --- | --- |
| STD | Standard equipment | 5540AB | Turquoise, two-tone | None | N/A |
(Click on a heading in the table for more information on that item.)