Long distance cruiser—RIP
Aaron Dobbs was the last owner of this much-traveled Greenbrier, bought in August 1994 from a used car dealer in Knoxville, TN. The van unfortunately was involved in a tragic accident in July, 2006. What's left of the van now resides at the Corvair Ranch.
Aaron had this to say about his rig before the accident:
"In August 1994 I found a glorious black '65 coupe (yes, a Corvair) for sale at a used car lot in Pigeon Forge, TN. The guy told me he would hold it for me. I had to go back to Knoxville (35 miles) to get the money. When I returned (admittedly the next day) he had already sold it. I was bummed (my Former-Postal-Vehicle-Ford-Pinto was on it's last legs—fatal tranny slippage) so I went cruising with a lot of cash in my pocket around other car lots in Knoxville.

I was actually looking at another Pinto when I saw a cool looking van —way too cool to be a VW Bus, by the way—in the back of the lot. The guy said he'd gotten it from some farmer's barn at an auction & had thrown a coat of paint on it (cheapa** job he did, too) and was getting ready to doll it up.

I asked "How much?"; He said a number lower than what I had in my pocket at the time; we did the deal and I got $250 for my almost dead Former-Postal-Vehicle-Ford-Pinto trade in. Since I've had it we've (the van & me) been from Knoxville to Springfield, MA 4 times (4 round trips) once through the worst snowstorm eastern PA saw in December '97 / January '98.
Repairs
Autumn '95: Left wheel bearing let go while visiting out east on Long Island, NY; Clark's Corvair got me a NOS bearing in 36 hours (for about $200—ouch); axle would probably have stayed in if I hadn't tried to turn left
Summer '97: Rear brake drums; got from NAPA (a little bit big, but they work OK)
Summer '97: Alternator rebuilt (brushes worn)
Summer '99: Vapor lock (often: every 10-15 minutes, even at speed); put in aftermarket (electric) fuel pump (probably burst the membrane on the "real" fuel pump and/or dried out, cracked rubber fuel lines at the tank); haven't had the opportunity to pull the tank, yet"
Aaron sent this photo in August 2005: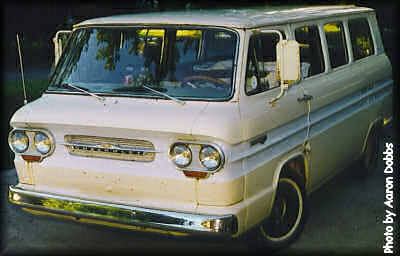 He also had the following to share about the history of Corvairs in his family:
"My father was a factory-trained Corvair mechanic and maintained a small fleet of bakery vans in the Rochester, NY area in the late sixties/early seventies (and worked at a speed accessories store there as well).

We had a '65 Monza coupe (automatic, yellow) and later a '69 Monza coupe turbo (Hurst shifter & all that jazz, blue). I was so pissed when my dad sold that turbo. (Boy, did I have fantasies about driving it and I was only 9 when he had to sell.) I later found out the guy we sold it to had it stolen, recovered it then it was T-boned while parked and totally demolished. There was a great wailing and gnashing of teeth at this revelation!"
Aaron provide the following account in December, 2006 of the accident that totaled his van in late July, 2006:
"I'm on I-24 in downtown Nashville, doing ~50 mph, and the Corvair (which was loaded rear-end toward the front, for balance, since the motor is in the rear) decides to get off the trailer. I felt a bump and a slight jerk. I look in my mirror and watch in awe as the Corvair rolls along behind me for a moment and then takes a hard turn into the median. The rear-end digs into the ground and - whoop! - the van leaps into the air, does a half-flip and a barrel roll and a half and lands on its roof in the left lane of the opposite direction of traffic! It doesn't slide or anything; just smacks down, pops open the doors, breaks out only half of the 13 windows, and dumps the last-minute-loaded stuff into the left and middle lanes of oncoming traffic.

Keep in mind, here I am in downtown Nashville on a major interstate highway late afternoon/early evening on a Sunday. Not the slowest traffic time of day - especially in Nashville. I had been in moderate traffic but everyone around me took the I-65S turn-off toward MetroCenter and there was a break in northbound traffic at the same time as the Corvair got off my trailer. No one was hurt and no one got hit by flying debris.

Nothing done, except property damage to my van and trailer.

As traffic came upon the upside-down van people stopped and started looking for the van's driver and possible passengers (there were none, of course)—I got over on the shoulder and ran back to reassure the searchers—and the police and firemen after they showed up—that there was no one in the van, etc.

Some passers-by had called 911 and said gasoline leak, 6 passenger van flipped over, car jumped median, and the like; so there was a massive response: 5 city police cars, 3 troopers, 2 fire trucks, and a DOT clean-up crew; the ambulances were called off before they got there— but 2 were enroute.

Took me (and the wrecker guys, etc.) two hours to get the van flipped over onto the wheels (one tire hadn't been flattened) and the worst of the strewn belongings out of the travel lanes.

I went off to get used boxes from grocery stores and ended up with about a dozen worn out banana boxes from Wal-Mart, went to the wrecker yard and unloaded what little remained in the van, went back to to the scene of the experience and loaded the remainder of smaller stuff that had been thrown, including 4 of my 5 computers, and continued on my merry way.

Definitely a 'Why me?!' experience."
Aaron sent the photos below in late 2006: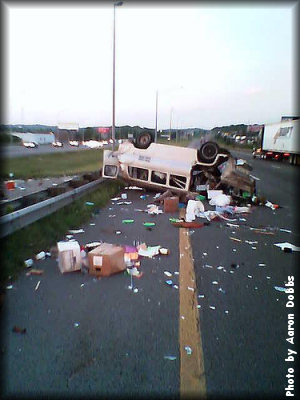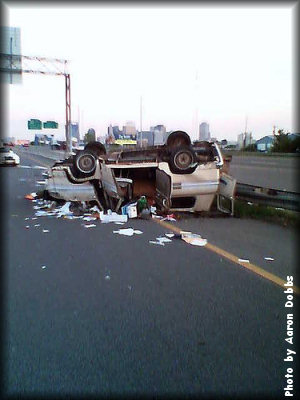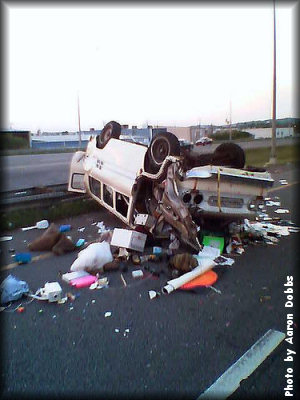 It's a miracle that no one was injured!
Information from the data plate
Description

Description

5Z60JB

Custom equipment, Fawn interior
6 doors, 3rd-row seat

5555AA

Fawn, two-tone

None

N/A
(Click on a heading in the table for more information on that item.)