Definitely Fact, not Fiction
Steve Simon of Upland, CA is the newest owner of this nicely-original van. He purchased it in October, 2009 from Scott Bakar of Pleasanton, CA, who had purchased it in 2008 from science-fiction author Sydney van Scyoc of Hayward, CA. Sydney and her husband Jim had owned it since 1968, having purchased it from a used car dealer in WA.
Scott explained, "The van Scyocs used the van for camping on vacations throughout the West. Jim was an Air Force fighter pilot, which explains why you'll find extra lights, switches, and controls mounted all over the van. He even put back-up lights in the rear gravel guards, which I thought was a good idea."
Steve related that the van is very solid, with just a few spots where the paint has been touched up. But, like many vehicles stored for 20+ years, the paint has a "crust" on it that needs to be carefully removed. The original engine came with the van but is in pieces. Steve plans to reassemble it and put it back in the van.
The engine date code is T0820RU, indicating an 8/20 build date. The RU signifies 1965 FC 110 HP manual transmission so it's almost for sure the original power plant. The transmission date code of R0717 indicates a four-speed manual transmission built on July 17, so again it's likely the original. The differential date code indicates that it has been replaced.
Scott took many photos when he put the van up for sale, which he was happy to share: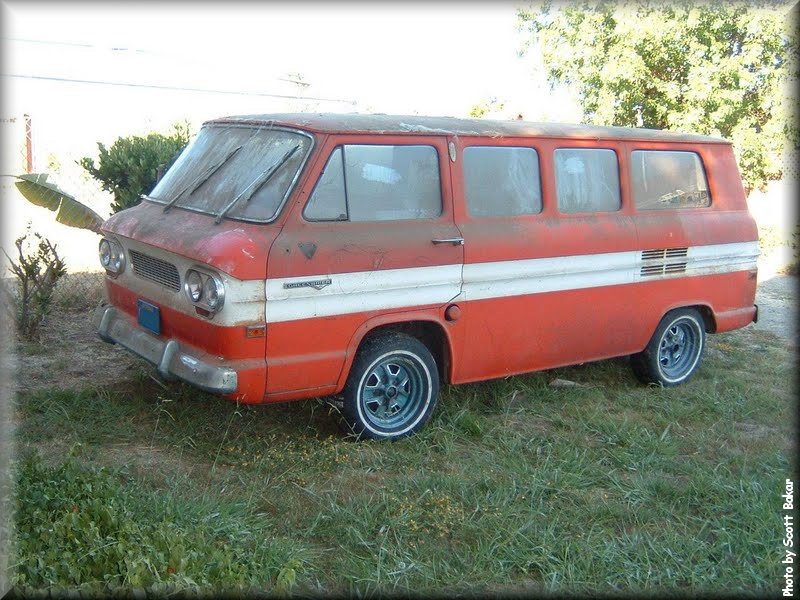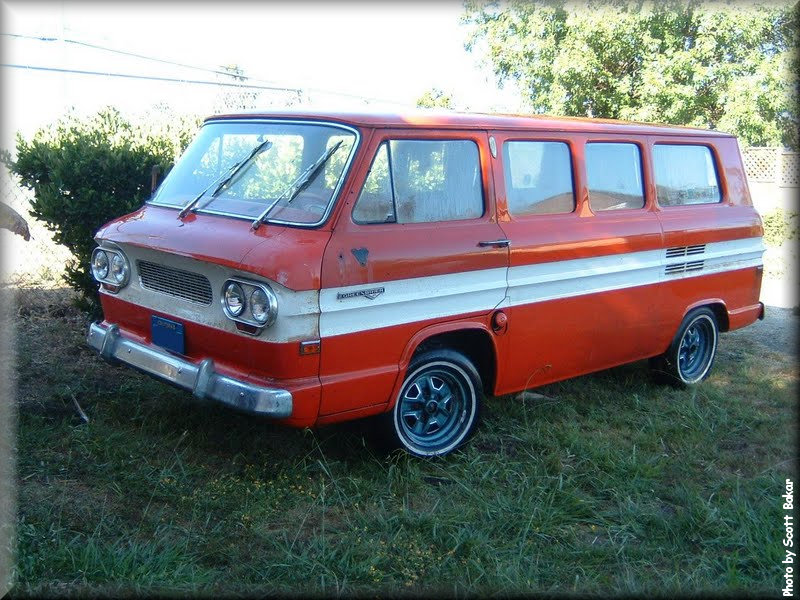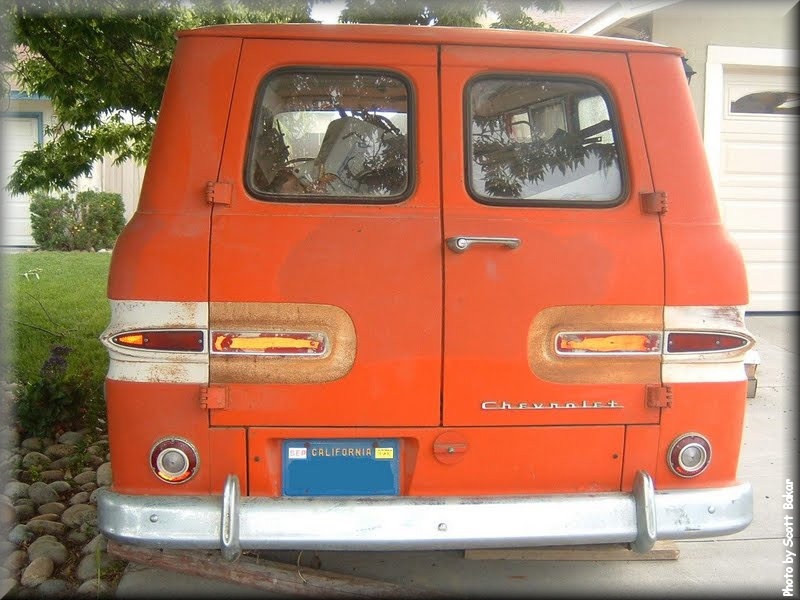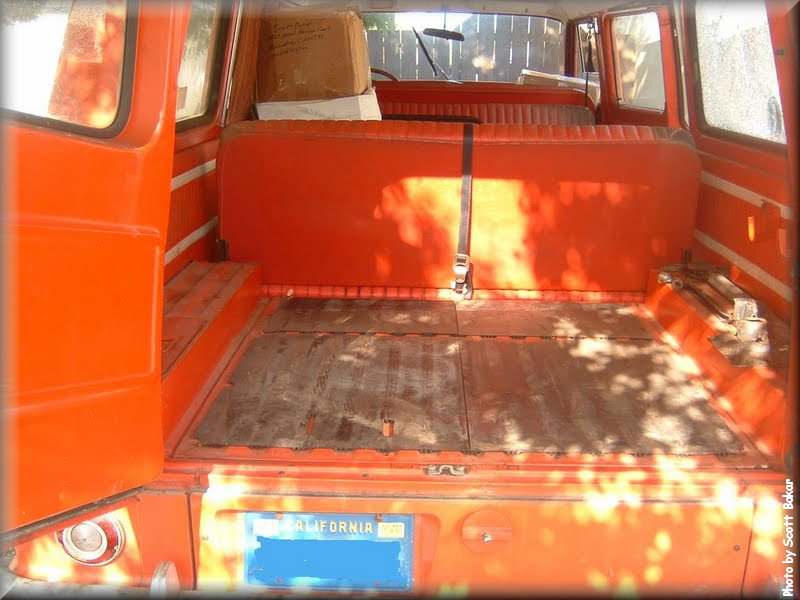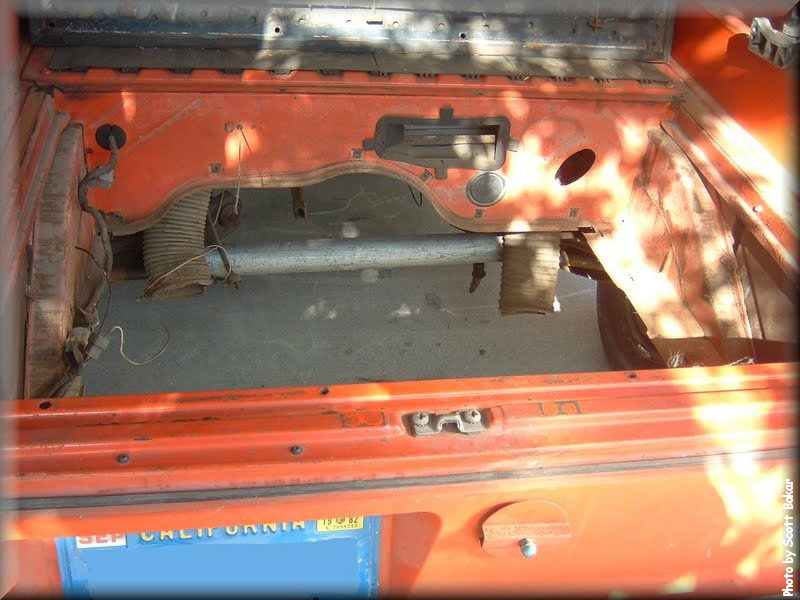 In February, 2016, Steve sent an update:
"I have finished the rebuild of the original engine. It is now back in the van and running well. I've also decided that the old paint job was too far gone. I will be painting it the original colors in the near future. I also spent the last year going over each and every body panel repairing all the little nicks dents and scrapes. They are all looking good and It is now painted on the outside in primer colors.

The interior panels are cleaning up very well. They almost look new after a good cleaning. Also, all of the interior and exterior door handles and cranks have been replaced with rechromed units. The bumpers have been replaced with rechromed units as well. A new clutch has been installed along with a new throwout bearing.

All of the hard and flex brake lines have been replaced. The wheel and master cylinders have been rebuilt. New brake shoes have been installed along with the brake hardware. The gas tank was removed and chemically cleaned then reinstalled. All hard gas line were replaced with new lines. Mostly all the newer part came from either Clark's, California Corvair Parts, or eBay. I've been driving it locally - life is fun again!!!"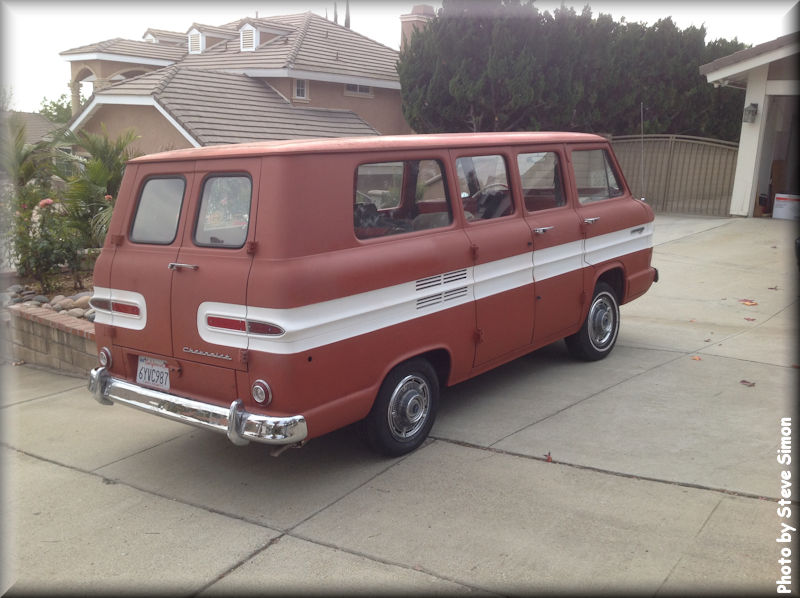 Steve, the van is looking great! Can't wait to see photos after it is painted...
Information from the data plate
Description

Description

5Z60LA

Custom equipment, Red interior
6 doors, no 3rd-row seat

5544AB

Red, two-tone

1 65

January, 1965 (*)
(Click on a heading in the table for more information on that item.)
(*) The dealer did not follow the prescribed format for the delivery date, which would be 01 5 for January, 1965.