Getting down to Business
Bruce & Betty Gwyther of Clinton, UT are the proud owners of this 8-door Greenbrier. Bruce had the following to say about their van:
"The Greenbrier was purchased for my wife for use in her porcelain/ceramic business. Being an 8-door it made it easy for her to load/unload at senior citizens' centers. We bought it in the fall of 1983 from Dale Viewig in Soda Springs, Idaho. I believe he was the original owner and purchased it new. It does not have the original motor in it (has a 110 car motor).

It has never been restored and is original except for a few minor things that Dale did to it for his flower business. He had a refrigerator unit in it to keep the flowers cold. The only modification made was a 110 volt outlet on the inside and a receptacle on the left rear below the taillight to plug it in.

We have been all over the west with it and have lived in Utah, Colorado, Arizona, Texas, then back to Utah. It still looks pretty good but should be restored since it is so rare and collectible. We understand that there were only a few '65 8 doors made (approximately 180 or 190).

I have been retired for one year from the mainframe computer repair business and also have a '65 Corsa convertible, two '61 Rampsides, and a '64 Monza coupe."
I had not heard before a count of '65 8-door Greenbriers. I'm interested in knowing the source for the count that Bruce mentioned.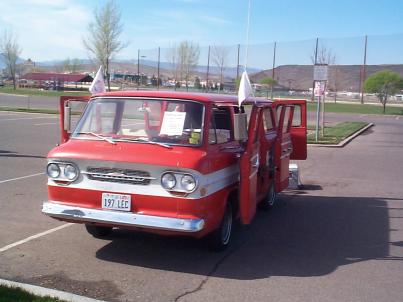 Information from the data plate
| | Description | | | | Description |
| --- | --- | --- | --- | --- | --- |
| missing | Unknown | missing | Unknown | None | N/A |
(Click on a heading in the table for more information on that item.)
The data plate for this rig may be storage and might turn up some day.