Northern Explorer
In April, 2012, John Oostdyk, of Thornhill, ON, purchased this nice '65 Greenbrier from Randy Dean of Brantford, ON.
In December, 2012, John sent an update:
"I was given a 110 FC motor (seized up and parts missing). It will take a while before I start on the motor. This winter I plan on rebuilding a transaxle, putting it on my '64 110 Monza motor, and using that for a while. The van needs some body work, a complete brake job, and interior work. I hate vinyl, so the seats will be done in cloth. I am looking for material close to original seat colours. Complete or not, I am hoping to be driving it next summer!"
Randy had previously purchased the van in November, 2004. Here are some notes Randy sent on it while he was waiting for it to be delivered:
This van came to me through the estate of a Corvair associate.

Shows 59659 on the odometer.

A little rough around at first glance but very solid.

Drive train is still to come, am told it is a 110 HP engine with a 4-speed transmission. I'm told the drive train was dropped as a complete unit and is as it was when taken out.

Van is still white with red insert but paint is faded.

Rear seat is missing but still could turn up in an unexplored garage at the parents home which contains the drive train.

Just about everything else is still in place and appears original.

Well, the ramp truck has just arrived with the FC so I must go!"
Below are some pictures Randy sent a few days later.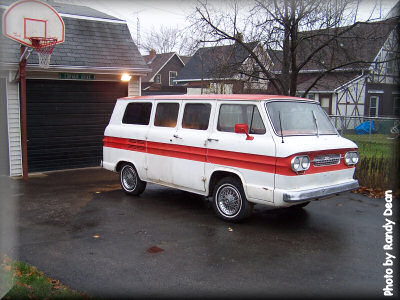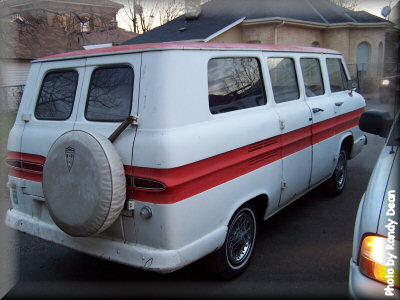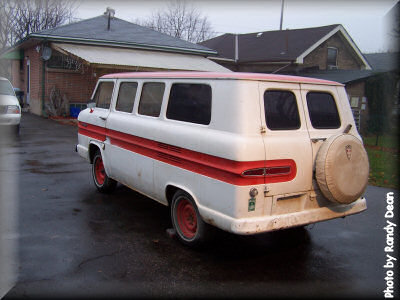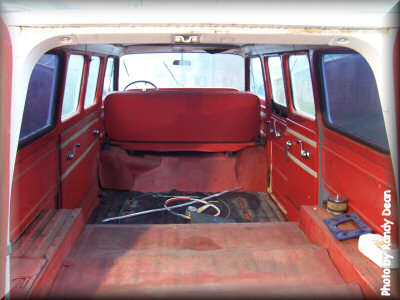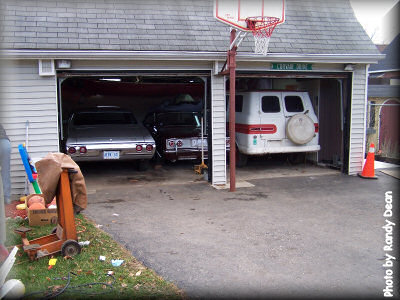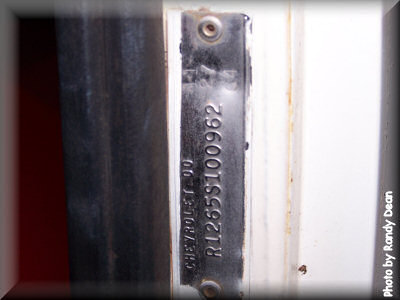 I hope John or Randy can send more history of this Greenbrier soon!
Information from the data plate
Description

Description

5Z60LB

Custom equipment, Red interior
6 doors, 3rd-row seat

5541AB

Ivory, two-tone

11 27 64

November 27, 1964 (*)
(Click on a heading in the table for more information on that item.)
(*) The dealer did not follow the prescribed format for the delivery date, which would be 11 4 for November, 1964. The exact day is nice to have though!