Rescue Complete
During 2008, Milt Simon of Santa Monica, CA became the newest owner of this potential-laden Greenbrier. He purchased it from Scott Bakar of Pleasanton, CA, who purchased it from Paul Koutsoukis of Oakland, CA in April, 2007. Paul found the van for free on Craigslist in March, 2007 and decided not to keep it.
This is Milt's second '65 Greenbrier and has the same paint scheme and trim level as the first. The first van left his family some years ago so Milt is happy to have found a van that reminds him of the original.
Here's what Scott had to say about the van:
"I think the van spent most of its life in the San Francisco Bay area. I'm in the process of contacting the person he obtained it from as well as another person I found listed on registration paperwork from 1998 that was tucked behind the vanity mirror on the sunshade.

Hopefully this will allow me to track down some of the original missing parts. I went through the van and discovered that the rear seat it came with is a third row seat but there's no evidence that the van came with rear armrests which I thought came with the rear seat option. So maybe someone picked this rear seat up at some point in time. Now I need to find a second row seat."
Scott said the original engine is gone, replaced by a 140HP PG block from a car. Scott believes that the original PG transmission and differential are still in the vehicle.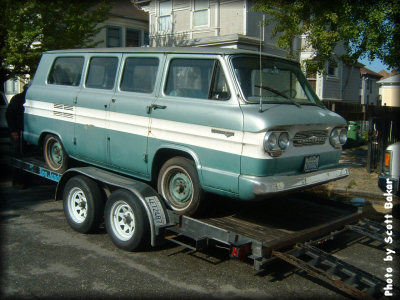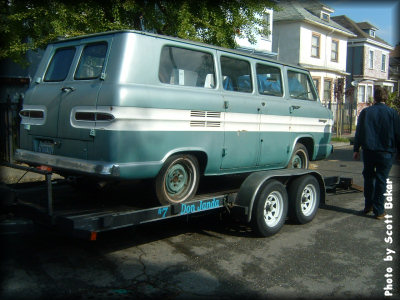 Information from the data plate
Description

Description

5Z60KB

Custom equipment, Turquoise interior
6 doors, 3rd-row seat

5540AB

Turquoise, two-tone

114

November, 1964
(Click on a heading in the table for more information on that item.)