Maroon Magic
Ken Boulan, of Sterling Heights, MI, purchased this all-original, low-mileage Greenbrier in June, 2003 from William Cowger, of Monticello, IN. William had owned the van since August, 1990. He bought it from the original owner, Manford Wolf, of Walton, IN. Mr. Wolf owned Wolf Funeral Home and used the Greenbrier to deliver flowers to grave sites.
The van currently has 30,278 miles on it. At the time Mr. Cowger bought it in 1990, it had 29,600 miles. It has been driven very little in the past 15 or so years!
Here's what Ken had to say about his rig:
"I have always wanted a '65 and now I have one. It has only 30k miles on it with a lot of documentation to verify it is original mileage. The engine was replaced with a car engine but everything else is original. It has a 3-speed transmission. I am in the process of rebuilding a FC engine for it. The body is in excellent shape and needs very little body work. I feel very fortunate to own this van."
From the original documentation, Ken sent me a scan of the Protect-O-Plate. We verified that the original owner was Manford Wolf of Walton, IN. He bought it from Grable's Chevrolet in Twelve Mile, IN. The vehicle was delivered to Mr. Wolf on December 9, 1964. Some other important info from the plate:
Original engine date code was T1119RU (110 HP engine with manual transmission built on 11/19/64); note that there is no plant designation because all Corvair engines were built in Tonawanda, NY
Original transmission date code was S0914 (three-speed transmission built on September 14, 1964 at the Saginaw, MI plant)
Original differential date code was AV1029B (3.55:1 ratio, manual transmission, non-Positraction, built on October 29, 1964 at the Buffalo, NY plant)
Ken also sent some photos of the van (below). He is pictured in the third photo with his wife, Claudia.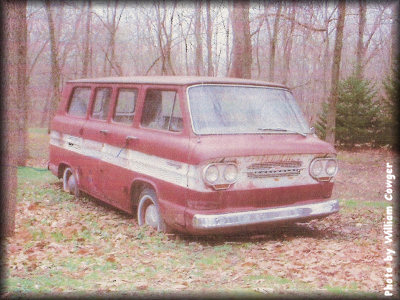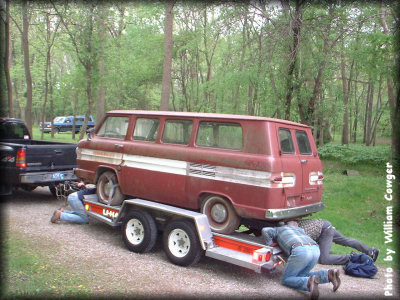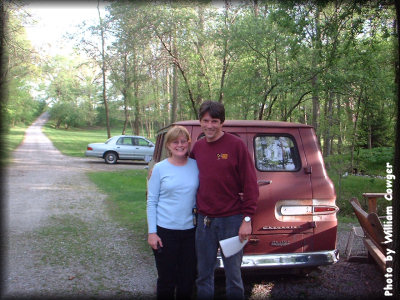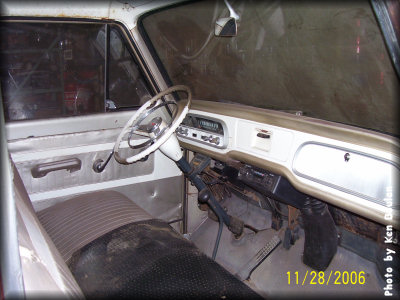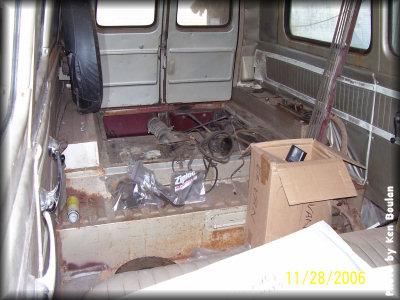 Ken, keep us posted as you do work to the van. It's a nice original example with an interesting history!
Information from the data plate
Description

Description

5Z60JB

Custom equipment, Fawn interior
6 doors, 3rd-row seat

5542AA

Maroon, two-tone

1264

December, 1964 (*)
(Click on a heading in the table for more information on that item.)
(*) The dealer did not follow the prescribed format for the delivery date, which would be 12 4 for December, 1964.