Worth saving
In 2002, Tom Willcox of Allentown, PA, bought this Rampside at an auction, because he thought that it should be saved. No history came with the truck, but it was likely sold new at Russo Chevrolet in Patchoque, NY, because the Russo dealer emblem was still on the tailgate. It was last licensed for the road in 1978, to judge by the New York State inspection sticker on the windshield.
Tom, however, ultimately decided that he could not be the one to save it, so in May, 2005, he traded it to Bob Marlow of Annandale, NJ, for a full-size Chevy van in need of work.
Like Tom, Bob thought that a rare Flint '64 should be saved. However, Bob's wife, Sue, wanted a Rampside with two features this one lacks: A running engine (this one hasn't run in a long, long time) and an automatic transmission (this one's a stick). So later that year Bob sold the truck via eBay to Joe Downey of Torrington, CT, who indicated that he was going to fix it up.
There the trail went cold—we lost contact with Joe and with the truck. But by pure coincidence, while searching for Rampside photos in the summer of 2009, Bob came upon a photo that was unmistakably the same truck. It was posted on CarPort, which has the happily ironic tagline, "Automotive Serendipity on the Web." Since all the photos on the site were taken in Connecticut, Bob knew he had found the same truck.
Bob sent an e-mail to CarPort's proprietor, Kit Foster, who promptly and courteously referred Bob to the photographer, Dennis David, who in turn replied and indicated that his photo was taken in the winter of 2008-2009. The location: Johnny's Auto Parts in Thomaston, CT—mere miles from Torrington. Bob telephoned Johnny's in late August, 2009, and they confirmed that the truck was still there, that is is still as complete as shown in the photo, and that it is for sale.
The reason that Tom and Bob each considered this truck to be worth saving is, that even though it is very rusty, the undercarriage is solid and it is also remarkably original. It has never been repainted or modified or customized or screwed up. It is still worth saving.
Good news: In November 2009, Greg Shaw, of Dearborn, MI rescued the truck and brought it home. In Greg's words:
"The truck has returned to Michigan. I talked to the owner at Johnny's Auto Parts about buying it back in the fall of 2009. He wanted $800 for it. I had seen pictures of it from 4 years earlier. It didn't look too bad.

Unfortunately it had sat outside the whole time and had 4 inches of water in the bed along with rotting leaves and several auto parts. I told the guy $800 was too much due to the water damage. He told me too bad but relented after seeing how much time it took to prep the truck for a dolly tow back home. I got it for $700 which I thought was acceptable (despite the car engine).

The truck is bagged in a pole barn in Lansing sleeping comfortably. I hope to check in on it semi-annually. I have a '61 with a "Campside" that I have to fix up first. I'm hoping to do some camping this summer. If I make that much progress I may bring the '64 home to Dearborn in 2011. I'm thinking realistically 2012.
Great job, Greg!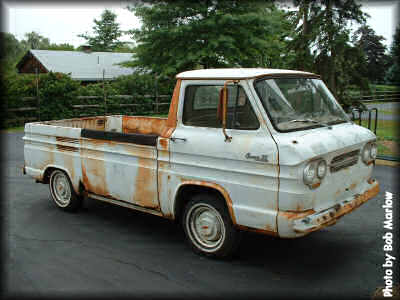 Information from the data plate
| | Description | | | | Description |
| --- | --- | --- | --- | --- | --- |
| STD | Standard equipment | 521 | White, solid color | None | N/A |
(Click on a heading in the table for more information on that item.)