Rescued
In November 2009, Andrew Sego of Indianapolis, IN rescued this Rampside from a junkyard near his home. As such, he was unable to learn any past history of the truck. If you recognize it, please contact him using the email link.
The engine code of T1112VB indicates that this is likely the original engine. The build date of November 12 matches the production month for the truck and the VB suffix indicates a 110 HP, manual transmission, FC block. The truck has its original 3-speed transmission.
Andrew commented on his truck:
"I am a sign maker and I worked out a trade with the yard owner—a couple of signs for the truck. I think the last owner must have been a carpenter though based on all the shingle scraps and laminate tiles in the bed. Who knows though? Someone at the junkyard could have been using it for a trash dumpster.

Two options this truck apparently has are a windshield washers and a radio. The radio pod is there but no radio. It is the FC-specific pod with the short curved sides. Perhaps dealer installed? The instrument cluster was gone when I got it, but the wiper motor is two-speed and the chrome washer nozzle is on the hood. The fluid bag is gone.

It's currently painted red with a white stripe. It looks like this may have been a black truck judging by some of the paint flaking off inside the back of the cab." [Ed.: The paint code confirms black with white stripe.] "I think it had a light gold-colored interior judging by the parts that weren't painted, although it is now white and red as well." [Ed.: Yes, this was standard for all Rampsides.]
Andrew, congratulations on saving another '64 Rampside and have fun with it!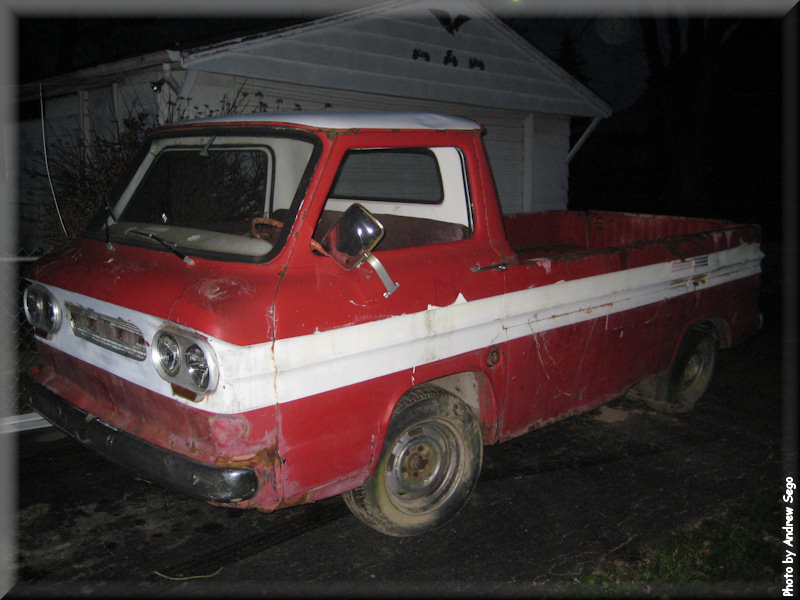 Information from the data plate
| | Description | | | | Description |
| --- | --- | --- | --- | --- | --- |
| STD | Standard equipment | 530 | Black, two-tone | None | N/A |
(Click on a heading in the table for more information on that item.)