Early Bird Gets The Cross-Country Trip
In September 2014, Bryan Jaumot, of Clarksbug, WV became the newest owner of this extremely early-production '64 Rampside. Bryan bought it from Cliff Wolford, a local Corvair guru, who had obtained it with a friend from California Corvair Parts. Cliff completely restored the truck in 2013 and enjoyed showing it for about a year before selling it to Bryan. From the serial number, we know this Rampside was the 35th FC off the line in St. Louis for the model year but we can't tell how many of those other vehicles were Greenbriers or Corvans.
Bryan had the following to share about his Rampside:
"My truck, from what I found, first lived in San Diego and was rescued from Arizona by Jeff of California Corvairs. It also appears to have spent some time in the early '70s in South Carolina. Cliff, our local Corvair guru, has been restoring my '66 Corsa and offered me the Rampside. The Rampside has all-original panels with no rust repairs or replacements. The truck was being parted out at the time of purchase from Jeff, so the glass, handles, latches, bumpers, etc. were all gone. The truck even had a Plexiglas rear window. Cliff bought another Rampside out of Virginia for most of the trim plus a straight tailgate. He later replaced the bumpers with re-chromed ones from California Corvair Parts. The interior, including a carpet kit, is from Clark's Corvair Parts.

Cliff stripped and straightened several dents and then painted it black with a silver stripe. He took his time, using this project as a filler in his body shop. The truck has 43k miles showing on the odometer. It runs and drives excellently. Between the two of us, we have put about 6,000 miles on it since completion, including a trip Cliff made to a car show in Somerset, PA, all without a single issue. This is the second Rampside that Cliff has restored. He has also completed a Loadside and several coupes and convertibles. It was nice to have someone with Corvair experience do the restoration."
Bryan sent some pictures of the truck as it looks in 2015--very sharp!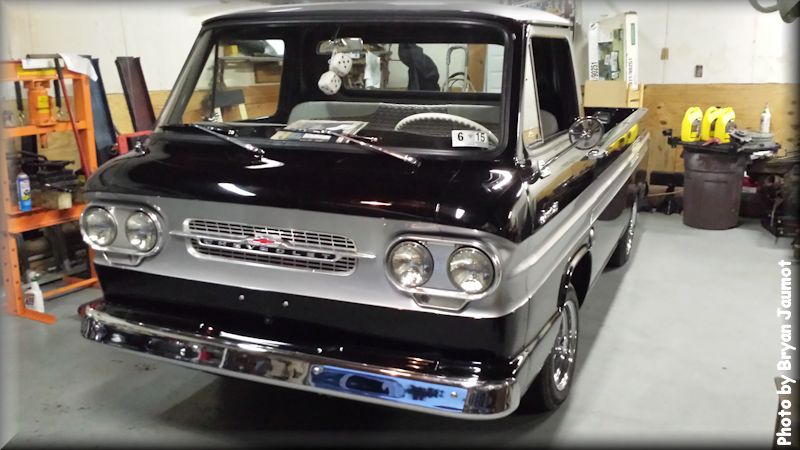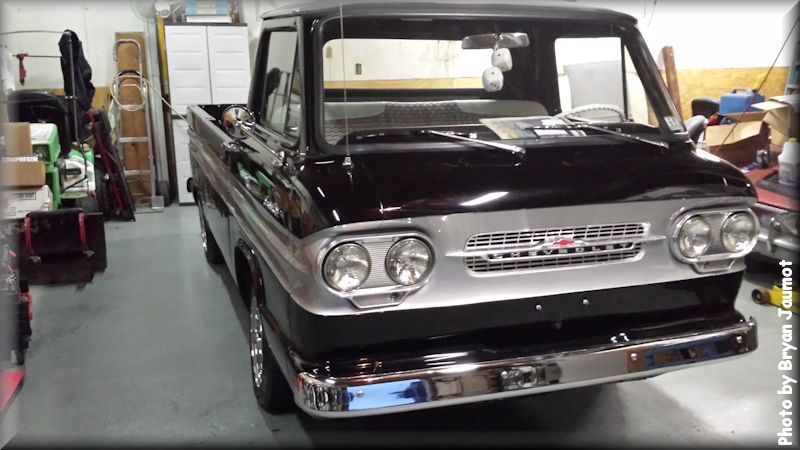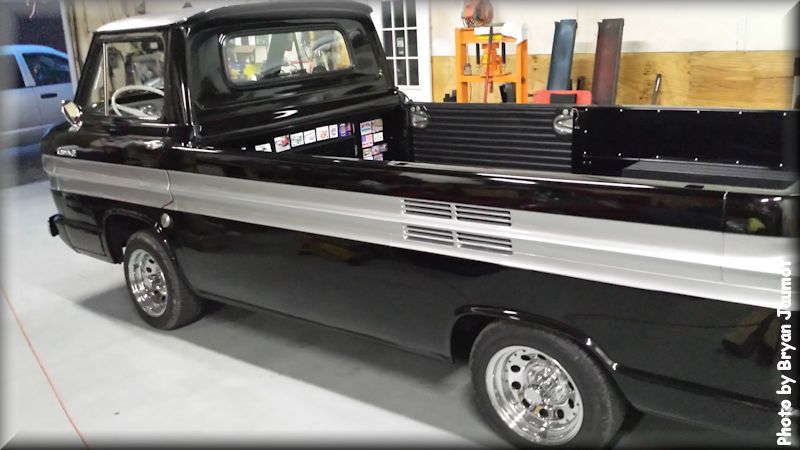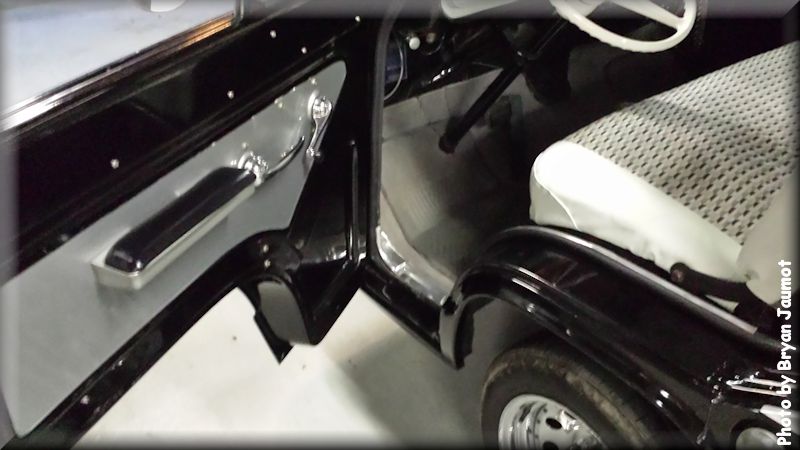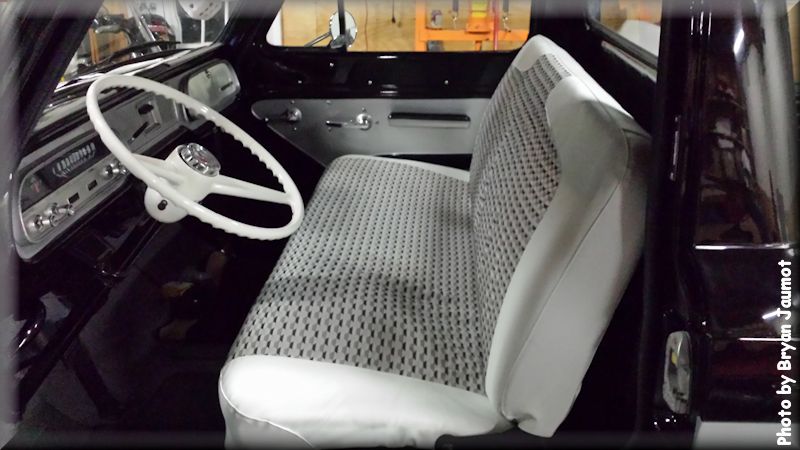 Information from the data plate
| | Description | | | | Description |
| --- | --- | --- | --- | --- | --- |
| STD | Standard equipment | 503A (*) | Lt. Green, solid color | None | N/A |
(Click on a heading in the table for more information on that item.)
(*) The format of the paint code is unusual, since there should be a two-letter suffix. The color indicated by the code matches the original color of the truck, so the missing letter may be a stamping error.