Tropical Truck
In November 2009, David Hocking, of Signal Hill, CA became the newest owner of this world-traveling Rampside. He bought it from Stephen Mills of Kailua, HI, who had owned the truck since 2001, when he purchased it from Tom Pinard of California and shipped it to his home in Hawaii. Stephen's dad, Jack Pinard, facilitated the sale to David from his home in southern CA.
From the pictures below, the truck appears to be a nice work in progress. There is ample evidence of two repaintings from the original solid white (which would be nice in the hot Hawaiian sun). From Jack's ad for the truck:
1964 Rampside Deluxe 4-spd. First of only 94 known, 4R124S100130. Eagle Alloys 17" x 8" with 245/45/17 tires. Grant steering wheel, Spyder dash. Bucket seats. Chrome bumpers. Good glass. Smooth running 180 engine w/2 new carbs (turbo removed), internal alternator, fuel pump, plugs. Rust areas. Cruised I-10 from Jacksonville to Santa Monica, 2400 miles in 72 hours, 24 mpg without incident. $5,000 before eBay.

There are a number of rust areas - cab floor, windshield corners, rockers - some shown in photos. Overall in better shape than what Jay Leno started with or some others advertised on CORSA page. Might drive down to next Vintage meet if hasn't sold. Located up the coast in Port Hueneme."
I hope the Rampside finds a new home soon!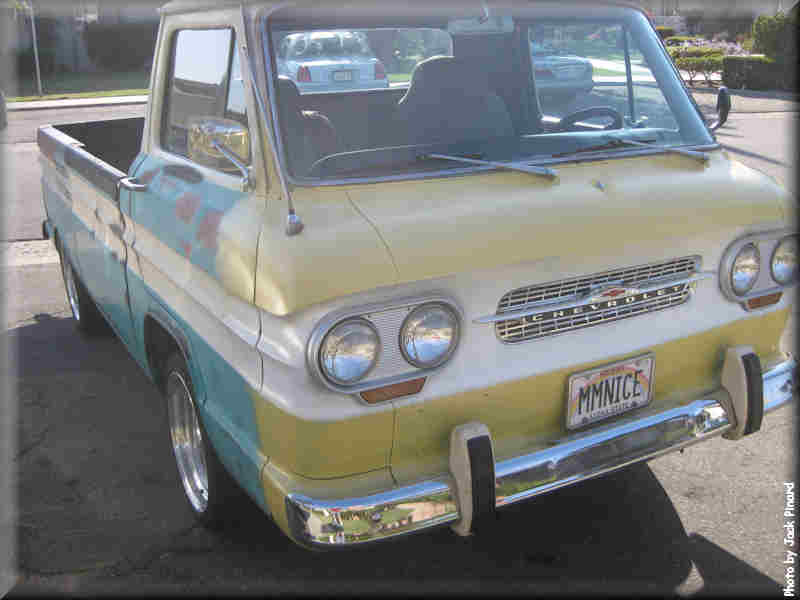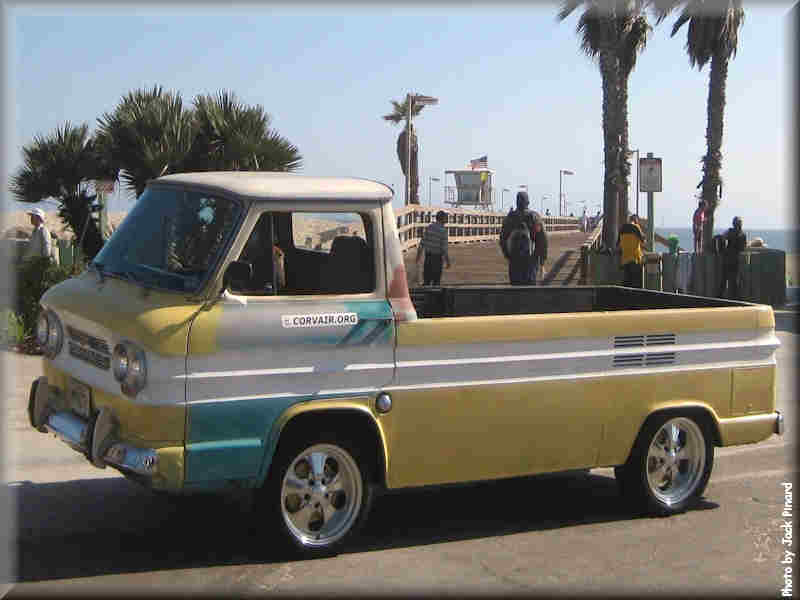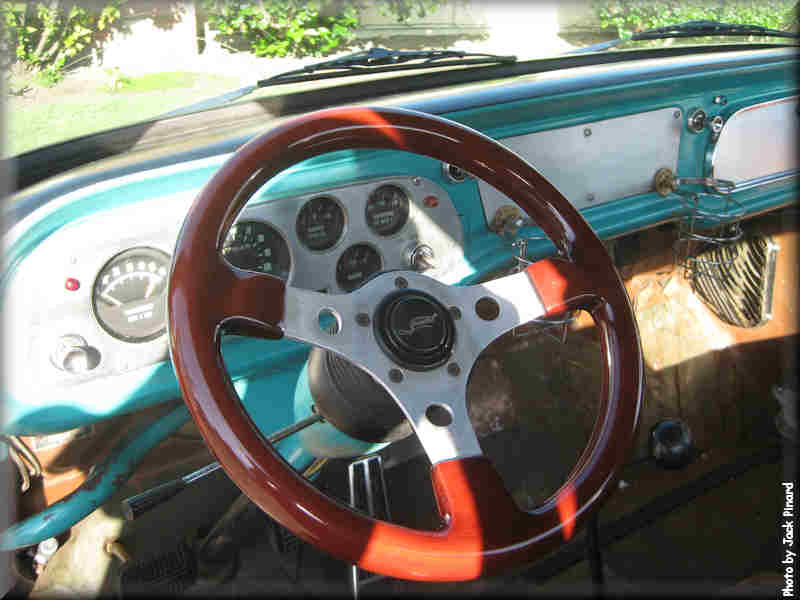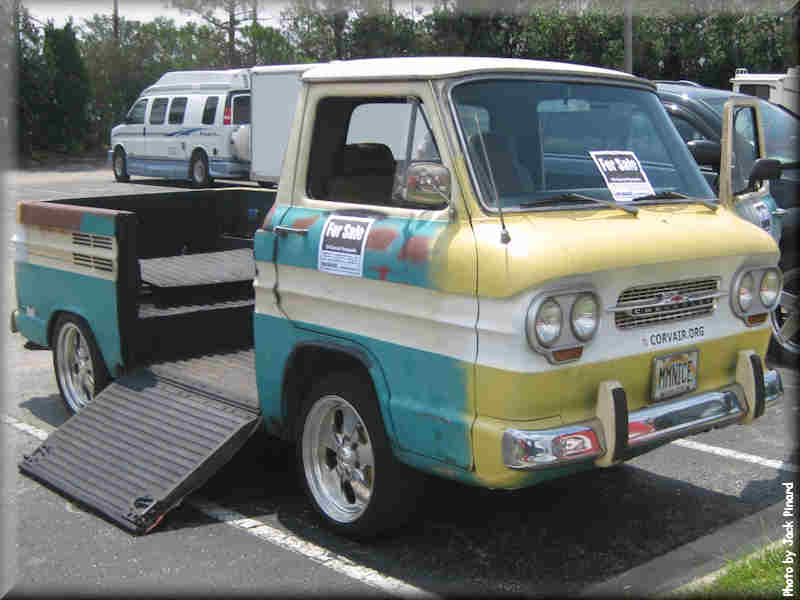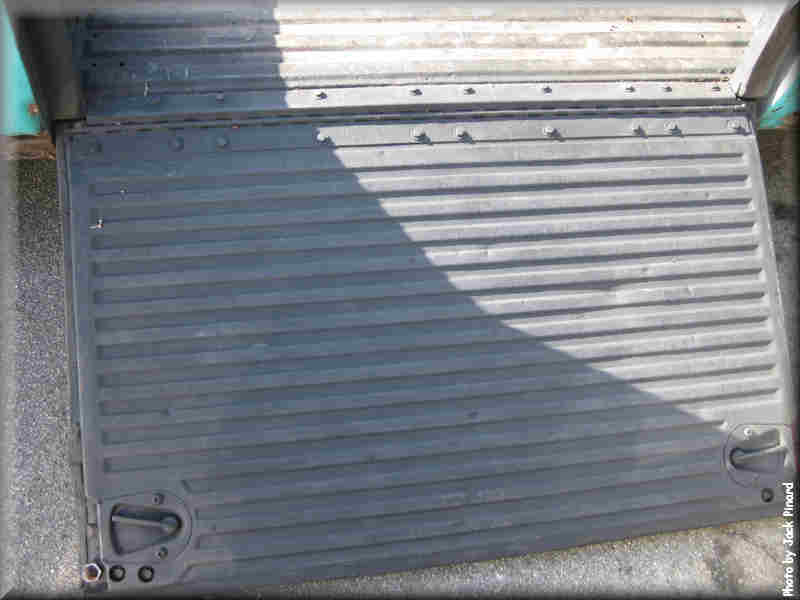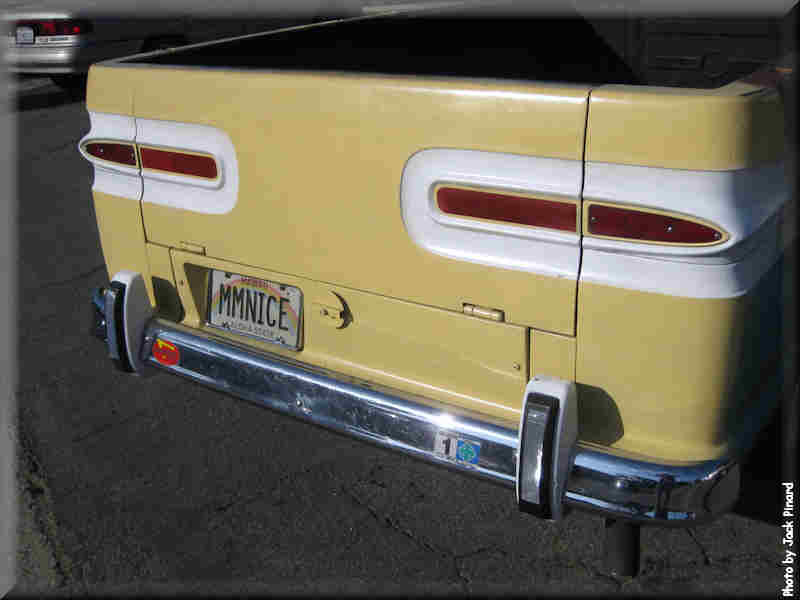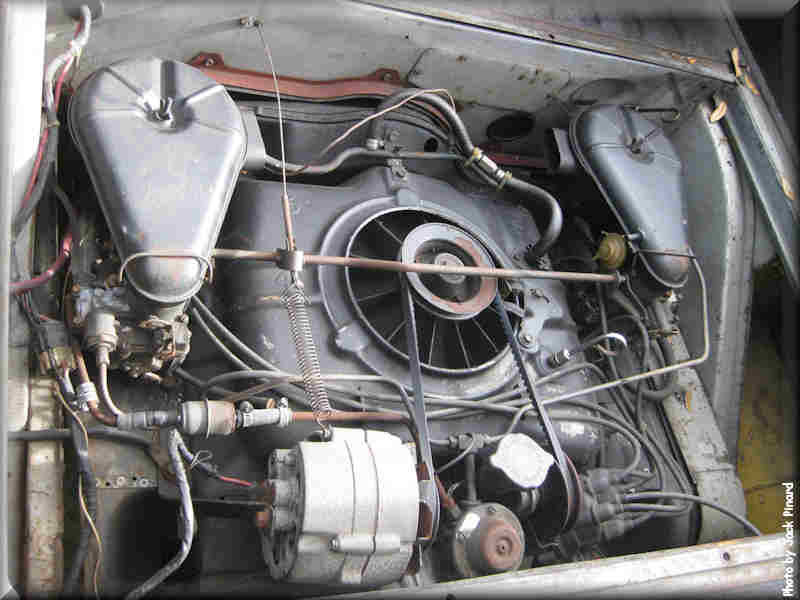 In August 2009, Jack sent a few more photos, showing a quick paint job done to even out the exterior color. He also included a photo of the truck's participation in the Ventura County Fair Parade on August 8. Jack added:
"From the curb, the temporary cosmetics hide the rusted areas pretty well. Corvair guys who have checked it out confirm my view that the basic structure including bed appear solid. The tail gate now has the folding lever arms attached. I have a repairable truck block that is included for buyer wanting to replace the car engine. I can replace the Eagle Alloy wheels with 14" stock wheels and reduce the asking price."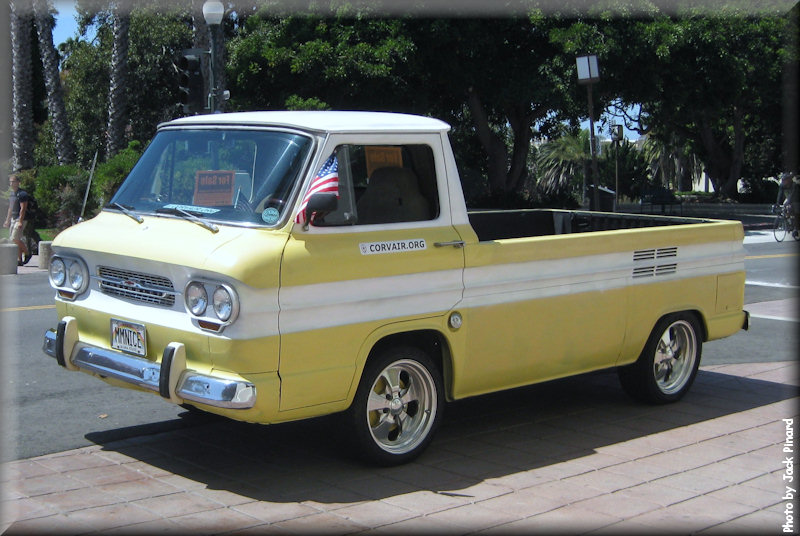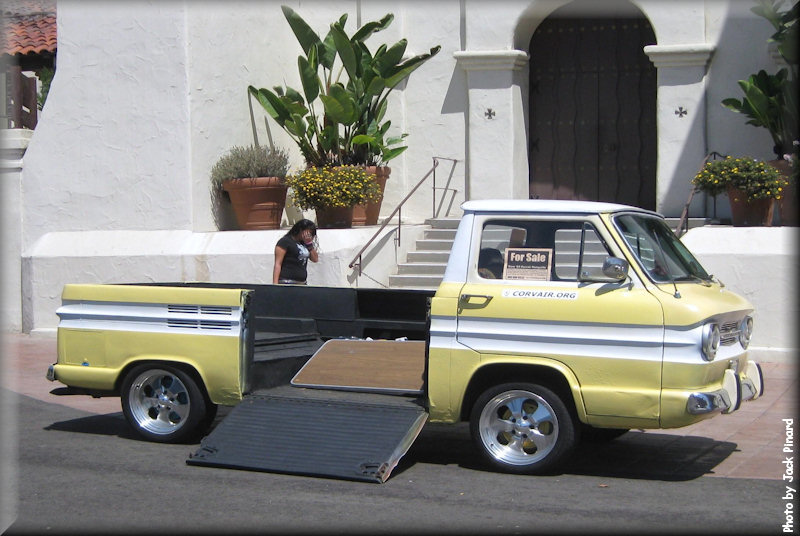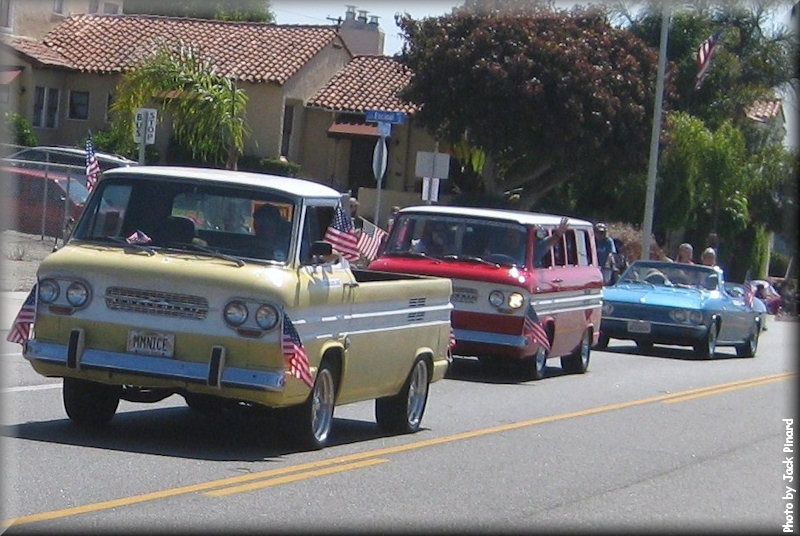 In January, 2016, David shared two photos of the truck, after it had been nicely repainted a couple of years prior. His son Nathan is in both pictures. David said:
"The vehicle has been re-painted (but not restored). It is used for short haul projects (artwork delivery, building supplies, etc)."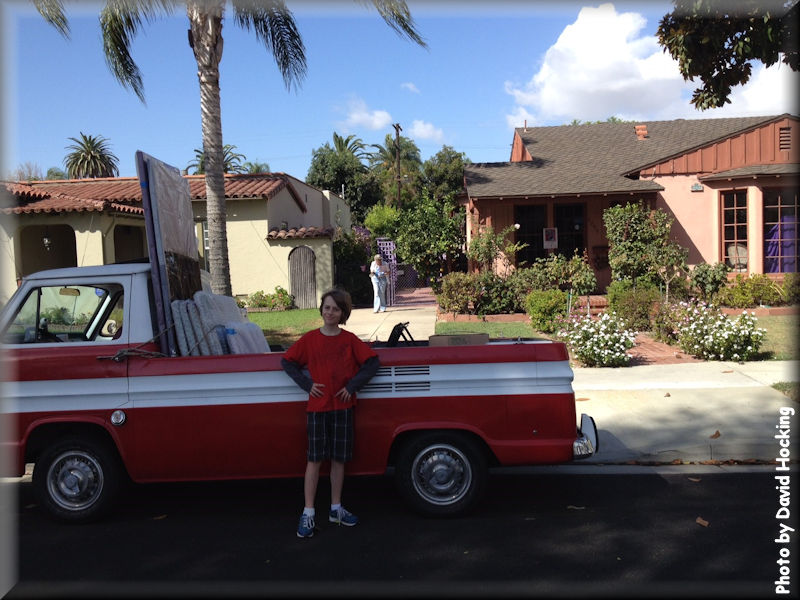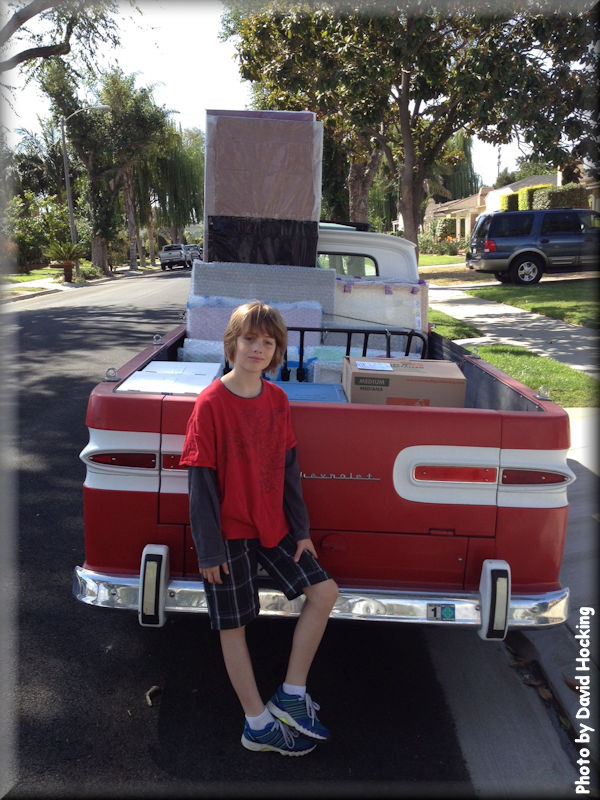 Information from the data plate
| | Description | | | | Description |
| --- | --- | --- | --- | --- | --- |
| STD | Standard equipment | 5521DA | White, solid color | None | N/A |
(Click on a heading in the table for more information on that item.)