The Sky's the Limit
In February, 2008 Mike Tidwell of Pinehurst, TX bought this Rampside from Terry O'Mahoney of Marion, TX. Terry had the following to say about this daily-driven Rampside and how he got involved with Corvair forward-control vehicles:
"This Rampside was bought by Pacific Southern Airline (PSA) in October of 1963. It had been a baggage truck for years. Eventually the truck found its way to the home of one of the airline vice presidents, Doug Kelley. Anyhow, I bought it from his wife when he passed away in approximately 1988.

The rear end was a 4.11:1 Positrac; not good for the road. I've been through the motor and changed the rear end to a 3.55:1. The truck came with all the paperwork back to October of '63 when PSA took delivery from City Chevrolet in San Diego. The metal license plate frame from the dealership is still on the truck.

PSA bought many of these vehicles in San Diego and used them for baggage trucks and baggage trailer tows out on the tarmac. They removed the ramp and put tow balls on the front and back. Reflective PSA stickers were applied to the vehicles and they began their hard lives as baggage trucks. Use of these vehicles, by the airline, may be traced back to Doug Kelley (an aviation pioneer). Anyhow, when he retired as president or vice president he always had one around the house in Fresno at Sierra Skypark. (Sierra Skypark is the oldest fly-in community in the U.S.)

I am a long time Corvair fan and CORSA member. I have owned Corsa convertibles, Lakewoods, Monzas... You name it, I owned it at one time or another. They were, and are, so much fun to drive. However, I hated the FCs. To me they were God-awful ugly! They looked like Kleenex boxes with wheels.

Well, there was this fine old gentleman in California who had a '62 Corvan and a '68 coupe. He didn't drive anymore... and I really wanted that coupe. I kept in constant contact with him. Finally, he agreed to sell me the van (but not the coupe).

I didn't want a van. It was ugly, the carbs were in need of repair, and did I mention it was ugly? Anyhow, I bought it because I thought it would open the door for the '68 coupe. So the Corvan sat in the driveway for about four months. Then, our Plymouth wagon burned out its wiring harness and I needed something to drive.

I redid the carbs on the van and began to drive it on a daily basis. I couldn't believe it! That ugly Corvan, the old Sunnyvale Drapery van, was fun to drive! This was the beginning of my Corvair FC sickness. I drove the van everywhere. I loved it and I began to long for a Rampside, just to see what it would be like.

Eventually I found one out in the woods. I got her going and started driving a '62 Rampside regularly. It was fantastic... You know the feeling. I became a Corvair FC fanatic and especially a Rampside fanatic.

When the Army Guard moved me to the depot in Fresno I soon located Doug Kelley's old Rampside at Sierra Skypark. So there am I, parked in a '61 Lakewood 500, talking to the recently-widowed Mrs. Kelley about her late husband's Rampside. We struck up a deal back in '88 and that ex-PSA Rampside has been mine ever since. I love driving that truck."
Just after Terry first contacted me about the registry he finished moving from California to Texas. One of the last items to move was his trusty Rampside, which he successfully drove with no problems. He did encounter something worth further investigation though:
"Well, after helping a good friend's family move, the Rampside made its way here to Texas. The old truck didn't even burn one quart of oil during the whole trip. I sure do wish I could buy one of these brand new!

While I was driving back I threw a fan belt. Well, of course there were belts under the seat so I rolled into a Shell station and changed the belt. One of the belts was non-Corvair so I went to the local NAPA and bought another belt... just in case.

While I was driving out of town a guy pulled up next to me at a light and asked me if I wanted another one just like the one I was in. I explained to him that it was not likely that he had a '64 model since so few were made. He admired my truck and said that his was just like it. He said it had the ramp and the same hubcaps. I showed him where the numbers are and he is supposed to look it up and drop me a letter. Of course he could have been mistaken about the hubcaps, but if he wasn't he may very well have a '64 Rampside.

We will see... if it is a '64 I'm going to go get it!"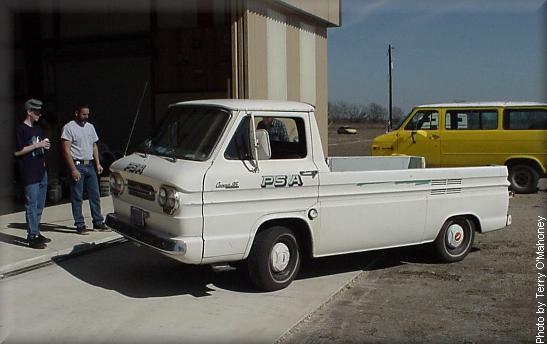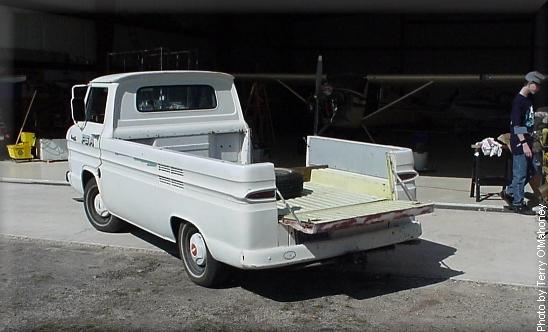 Information from the data plate
| | Description | | | | Description |
| --- | --- | --- | --- | --- | --- |
| 5Z60AA | Custom equipment, fawn interior | 5503AA | Light green, solid color | None | N/A |
(Click on a heading in the table for more information on that item.)