"Car" of the Week
Jim Enfield, of Felton, PA, purchased this now-famous Rampside in 2004 in Mechanicsburg, PA. As Jim related in a wonderful Old Cars Weekly online article (as well as the printed edition), the truck had been stored in a barn for 19 years. Jim was able to start it and drive it onto a trailer to take it home. The truck only has approximately 55,000 original miles and is largely unrestored.
While the date code of March 27 indicates that Jim's engine is not original, it is a truck block and is equipped with a 4-speed manual transmission and a gas heater. Jim has spruced things up a bit, as he explained in the Old Cars article:
"The first thing I do when I get a Corvair is tear the engine down and detail it and get it running right," he said. "I spent quite a bit of time on the engine and engine compartment. It did run and it did drive, but boy did it smoke. I left a trail. I'm pretty sure he had to put a battery in it to start with. I'm not sure what else he did to get it to start. Corvairs are pretty tough!"

"The condition was still very good and I still have not repainted it. Some of it is original paint. A lot of people say it looks pretty good. The exterior is the way I got it. I think it had been repainted, but I think that was was like 30 or 40 years ago. It does have some dents and dings, and everybody says that gives it character. The bed was sort of beat up. I've seen worse. The cab just needed freshening up. I wound up painting the inside. That was within the first year of me having it."
Jim believes that upholstery and headliner are original. The rubber floor mat was worn out so Jim replaced it with carpet.
Here are some photos Jim shared, some of which are different from the Old Cars feature: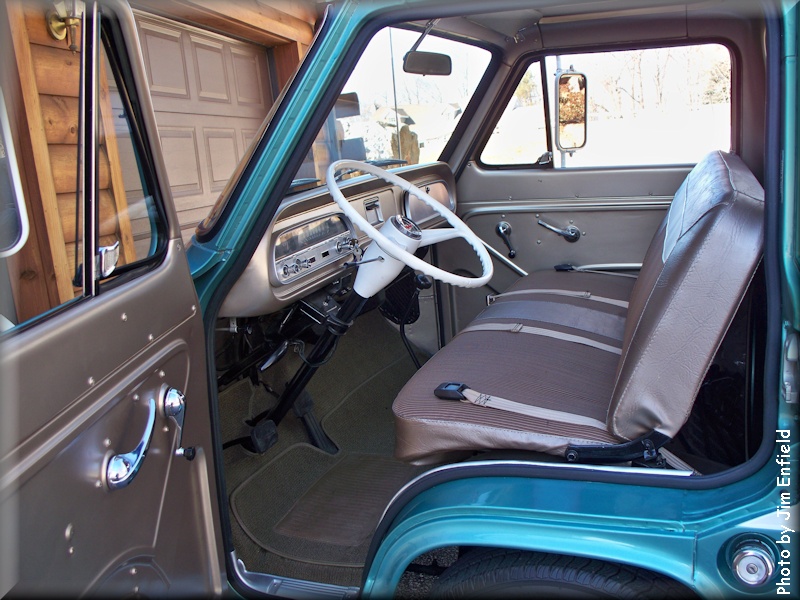 Information from the data plate
| | Description | | | | Description |
| --- | --- | --- | --- | --- | --- |
| 5Z60AA | Custom equipment, fawn interior | 5510AA | Turquoise, solid color | 12 3 | December, 1963 |
(Click on a heading in the table for more information on that item.)