Restoration Underway
Sherry Morrow of Kearney, NE is the newest owner of this near-original Rampside. Sherry has become quite the Corvair collector over the past decade. She now owns 13 Corvairs, including three Rampsides.
Larry Carstenson provided the following info in March, 2006:
"Sherry is a dear friend and I drive her Corvairs so that they stay in shape. My love for the past three years has been her 1964 Rampside. The truck was originally sold to a couple in Ogallala, NE.

The owner's protection plan book, as well as the vehicle manual, are still in the truck. The engine, transmission, and differential codes from the book are T1125V, R1126, and HQ1122. I will check soon to see if these match what's in the truck now.

Sherry had the engine totally overhauled after having it towed the first three times I drove it; the last time being after we put out a fire in the engine!

The truck runs great now and we would like some advice on how to properly restore the body. Sherry and I were beginning to look at paint colors until my nephew (who is into classic, original, vehicles) insisted that we use the original factory colors. That's how I came across your site. Somehow, the restoration bug has just now hit us. It's fun!"
Sherry and Larry, you're starting with a nice original example and I'm sure it will turn out great. Can't wait to see photos of the restoration in progress.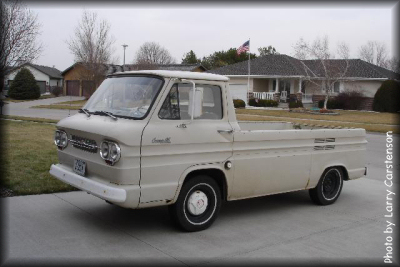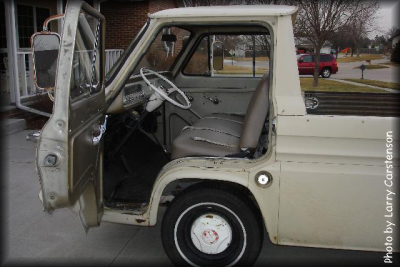 Information from the data plate
| | Description | | | | Description |
| --- | --- | --- | --- | --- | --- |
| STD | Standard equipment | 5528AA | Fawn, solid color | None | N/A |
(Click on a heading in the table for more information on that item.)