Rags to Riches
Chris Shade of Hastings, NE purchased this well-traveled Rampside from Kirk Johnson of Lincoln, NE in February, 2012. Chris is the owner of Shade's Classic Corner and often has Corvairs for sale. Kirk had previously purchased it from Bill Bernard of Canby, OR in May, 2007.
Kirk had the following to say about his purchase in August, 2007:
"I am the truck's fourth owner. Bill Bernard, service manager of Canby Ford, drove it to work almost daily. His parents owned a salvage yard and Bill is still driving a '62, I think, Rampside. He was going to restore my truck, but he has no place to work on cars. Apparently the Ford dealer would not let him use the shop! The three previous owners lived in the Salem/Portland, OR area. I bought it for $1025, which included a driver's side skin and an unholy "new" ramp.

I took time off from work in June to drive the truck home to Kansas. In the 1900 miles from Jefferson, OR, it did not use a quart of oil. I only had to downshift from fourth gear near Cheyenne, WY. Bob Hill of Jefferson, OR, took the pictures from the trip. He followed me to Kansas City in a new Dodge pickup because he and his friends did not believe the Rampside would make it. I drank free beer during the trip every time someone lost a bet. One was the Oregon border, one was the Rockies, and one was Kansas City. I sure wish I was a drinker; I 'd still be drinking.

I plan to take care of the rust ASAP and plan to have it 'done' sometime in the spring of 2009. It runs really smooth right now. It might be running a bit rich, but I have been spending too much time trying to get it registered. The Kansas Highway Patrol had to find the 'secret' serial number and could not. Corvair Kid to the rescue! 'Rags,' the ratrod Rampside, is now legal."
Kirk, great story. I was more than happy to help you locate the hidden serial number for the KHP. Keep us posted!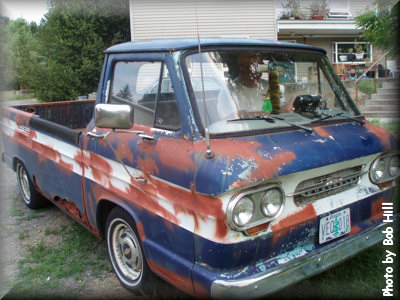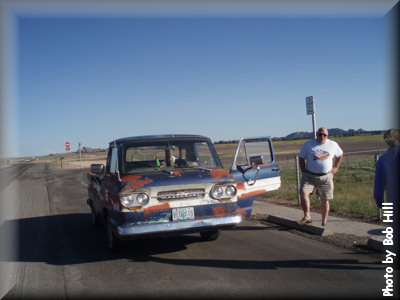 In April, 2008, Kirk wrote to say that he had completed a quick repaint of the truck, to help protect the body and even out the color. In Kirk's words:
"I tried the 50 dollar paint job. If you are fifty feet away, it ain't too bad!"
I agree. It looks just fine. Nice for it to be all one color! Kirk also mentioned that the engine unfortunately blew, which is the main reason he decided to go with the $50 approach for now.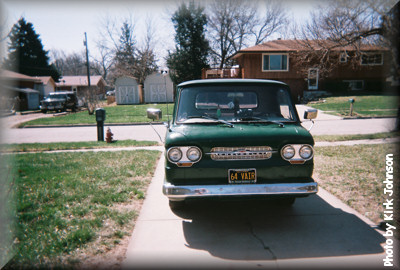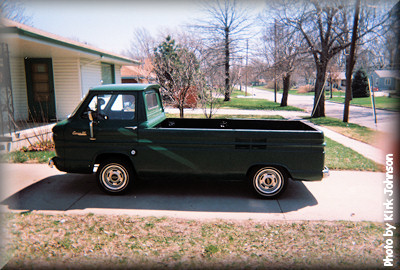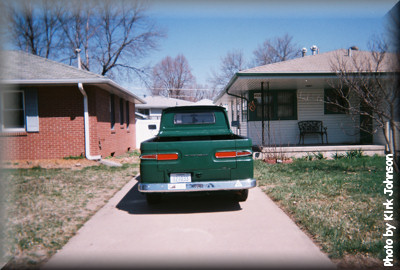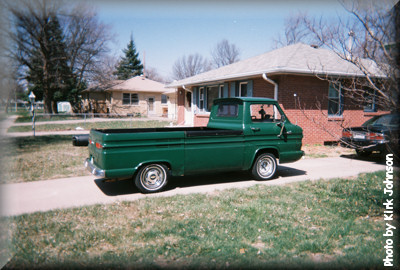 In September 2011, Kirk sent this photo from a car show that members of the Green Country Corvair Group attended in Tulsa, OK. It was a hot day, according to Kirk.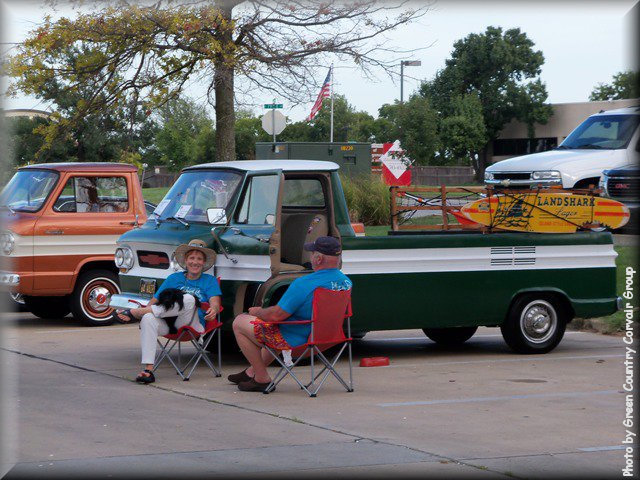 Information from the data plate
| | Description | | | | Description |
| --- | --- | --- | --- | --- | --- |
| STD | Standard equipment | 5510AA | Turquoise, solid color | None | N/A |
(Click on a heading in the table for more information on that item.)