Riding off into the Sunset
Don Proctor, of Campbell River, BC, is the newest owner of this now-restored Rampside. He purchased it, in partially-restored condition, from Tom St. Amand of Port Angeles, WA in October, 2013. Don shared the following about his sharp truck:
"Having been interested in Corvairs since the 1970's, I had always wanted a pick-up version. Living on an island with salt water surrounding it, most vehicles rusted away soon after they were built. There was one Rampside I spotted as a child, but it was fairly rusty, and I don't know what ever happened to it, and there was one other truck that I saw back in the late seventies, and it was at a welding shop, and I believe somebody was turning it into a wheelie truck, because it was all cut away in the back, and was having a large v-8 engine installed. I lost track of this one too, so when Tom's '64 came available, I did not want to let it go by."

"After reading how it spent some of it's life a registered as a 1965, I decided to register it to the correct year when I transfered her into my name. I didn't really have any problems at all getting it registered into the correct year. It was just a matter of contacting ICBC , the government office for registering and insuring vehicles here in British Columbia, and getting in touch with the right department. Once I did this, a lady told me I had to provide supporting documents to prove the year was incorrect on the papers, and they would change it. I pointed out that there was never any such vehicle as a 1965 Corvair 95 pick up series, as GM stopped production in 1964. The most important supporting piece of documentation was the VIN. I explained to them that the first digit of the VIN is a 4, indicating a 1964 model. Some photocopies from The Corvair Decade and other valuable resources were instrumental in the process also. I also provided the lady with a link to this registry page so she could see my request was legitimate."
In June, 2012, when Tom put the truck up for sale, he provided an update on his work to date:
"It's a project vehicle. The pictures below are of the day I brought it home. Since then I have completed bodywork on the cab, doors, ramp and side of bed. Bodywork has not been done in the back or in the bed yet. I have panels to repair rear damage. The 95 HP engine runs and the trucks has a 4-speed transmission. I have a spare 95 HP engine and 4-speed transmission. Call before 9:00 PM Pacific time. 360-670-3476."
Tom had the following to say about his truck when he first bought it:
"This truck was actually registered and still is listed as a 1965 truck. I have the original warranty booklet. It shows that the truck was sold on 5/25/64 to Edward Starwich of Puyallup, WA from Sunset Chevrolet.

There were various registration certificates dating back to the mid-Eighties, all saying it is a '65. When I put the truck in my name I asked if I should return it to the proper year and I was told it would be better to just leave it alone.

It is currently in running order but has rust issues and brake failure along with bugs in the wiring so it's sitting and waiting for restoration."
In the small world department, the current owner of Sunset Chevrolet, Jerry Yoder, has a couple of very nice Corvairs and is an active member of Corvairs Northwest.
Don described the restoration process and provided photos of the process:
"After going over every millimeter of the body with a fine tooth comb, I discovered that any rust was contained to the sheet metal only. The frame and structural components were as solid as a rock, so I proceeded to do a complete restoration. A lot of spare parts came with the project that Tom had collected from vans and other pick-ups, so I was able to use the best of everything."
Check out the photos at the bottom of the page for some of the work Don did, and the final results. Looks great!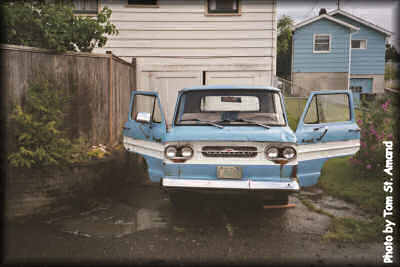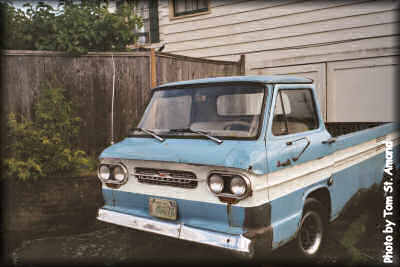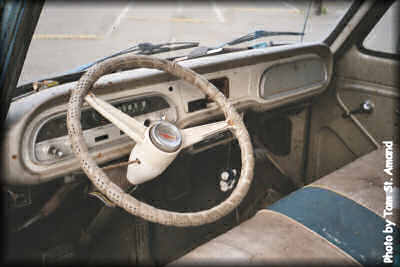 Tom sent the following pictures in June, 2012:
Here are the photos that Don sent in October, 2014:
Information from the data plate
| | Description | | | | Description |
| --- | --- | --- | --- | --- | --- |
| STD | Standard equipment | 5537AC | Light Blue, two-tone | None | N/A |
(Click on a heading in the table for more information on that item.)