Hot pursuit
In November 2007, Ralph Woessner of Calgary, AB bought this fine Rampside from Jim Brown of Santa Rosa, CA. Ralph is excited to own a Corvair. As he said to me in email, "Love the truck. It is the sweetest ride I have and I have some nice ones!"
Jim had the following to say as he put the truck up for sale:
"It is a great little truck but I need the space for other projects. I would really like a 'vair person to get it and maintain it as it is. The asking price is well below replacement cost. The engine, transmission, and rear end have all been rebuilt by Larry's Corvairs in Los Angeles. Tires and paint (exterior and interior) are all less than 18 months old. This vehicle has been gone through from end to end, top to bottom. The bed is Line-Xd, and will probably out live the truck. The engine a 140 HP car engine with 4 1bbl carbs. Trans is a 4 speed. The truck is fast off the line and cruises at highway speeds with no problem. The front is lowered 2 inches. Wheels are 15"x6" Torque Thrust II's with Falken 225/60HR15 tires."
Frank Dotson of Modesto, CA told me about this truck in 1999 and I searched for it until late 2002 before finally locating it. Frank had to part with the truck several years ago and lost track of it. In 2001, I thought I had tracked it to Erwin and Susan Balog of Rohnert Park, CA but they had just sold it when I contacted them. They subsequently moved and I lost touch with them before they were able to tell me who the new owner was. Frank came to the rescue in 2002 by finding the Balogs. He spoke with Susan and put me in touch with Jim. Whew!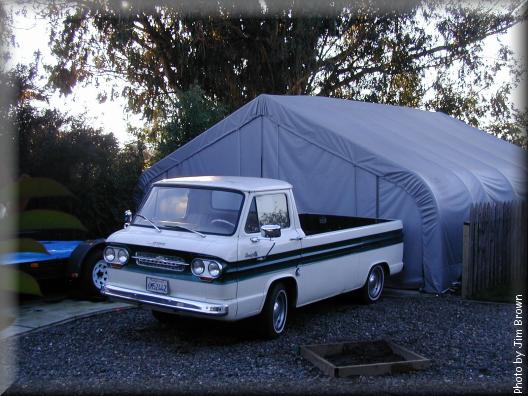 When Jim bought the truck, it had a 140 HP car engine. Jim thought about dropping in a mid-engine V-8 similar to what Ken Arnold in Georgia did but he later decide against it. Jim reported in October 2004:
"I've decided to keep the 140 hp engine, now with a 4bbl carb setup. I've rebuilt the engine cover area to house the new intake setup, have finished the interior, and am moving on to body work and choosing new colors as well as tire/wheel combination. The truck is destined to be my local daily driver. I get as many looks in this truck as any of my other classics."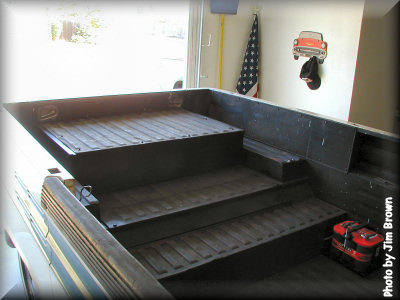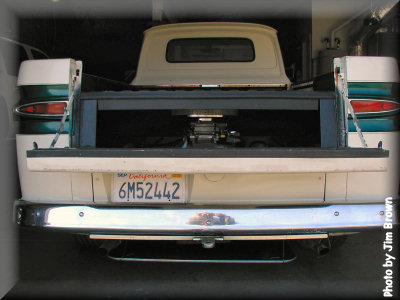 Jim sent a report in May, 2005:
"As previously discussed, I stayed with a 140 HP Corvair engine (rebuilt by Larry's Corvair Parts in Los Angeles). I switched from the 4 bbl center-mount carb to more-stock 4 1 bbl. carbs but with individual air cleaners. Larry's also rebuilt the transmission, which is a 4-speed, and the differential.

I originally was going to flame the insert area of the truck, but have decided I like the clean look of the pearl white. I can always add flames or graphics later.

The front was lowered 2" and features 15"x6" Torque Thrust II's with Falken 225/60HR15 tires. The bed was Line-Xed locally. The interior was left pretty much stock except for the Spyder instruments and glove box cover.

The truck is a blast to drive and garners a lot of attention. Thanks to everyone for their help and encouragement in getting this project done!"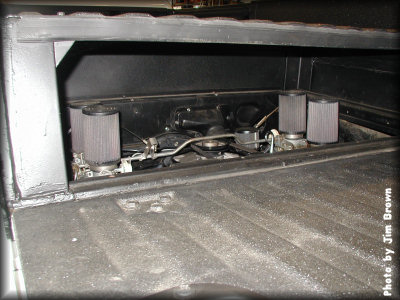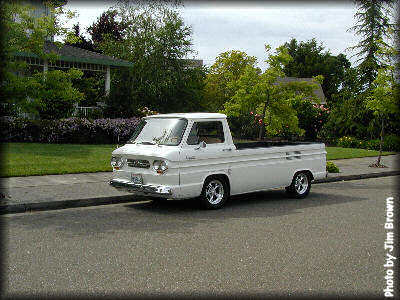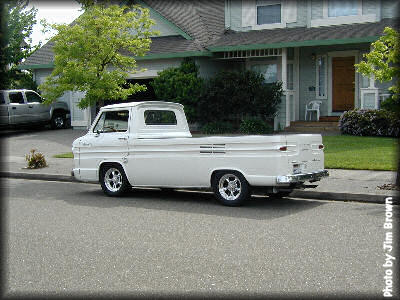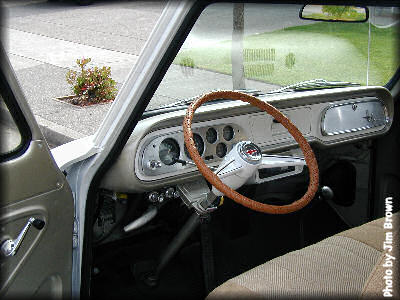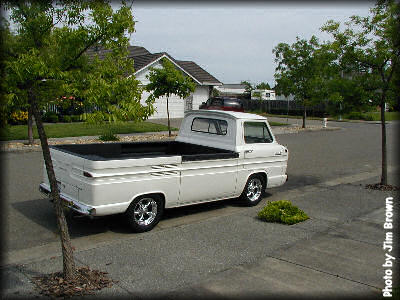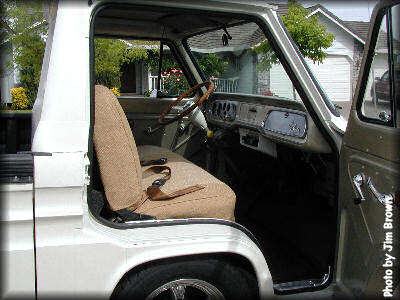 Jim, the truck looks fantastic. Congratulations!
Information from the data plate
| | Description | | | | Description |
| --- | --- | --- | --- | --- | --- |
| STD | Standard equipment | 5514AA | Red, solid color | None | N/A |
(Click on a heading in the table for more information on that item.)