Bug squasher?
In November 2006,
Charlie Doerge
sold this Rampside to
Daniel <last name unknown>
.
Charlie provided the following info on the truck when he owned it:
"This Rampside was originally owned by Fleming Termite & Pest Control of Trenton, NJ. All of their vehicles were Corvairs, and supposedly they had a "dual ramp" Rampside (doubt if it came that way from Chevrolet).

Years ago the vehicles were auctioned off and Don Smieszek of Columbus bought it along with an NOS steering box (still on my shelf). I bought the Ramp & parts from Don about 10 years ago, and it has served as my "beater" and auto flea market vehicle ever since.

I have the original engine tucked away and it is currently a 110 car motor with dual Supertrap mufflers, 4 speed, and 3:89 rear.

It always draws attention wherever it is even though it's rusty and in dire need of some fresh paint."
In August 2006, Charlie sent some photos and put the truck up for sale:
"A great runner, 110 car engine, 3.89/4 speed, not running, been sitting awhile. In storage in Farmingdale, NJ (central NJ). Undiagnosed movement problem (rear yoke, stripped gears in rear, etc.), but have extra 3.89 differential to go with it. Have lost storage effective December 2006, and will sell immediately or will list on eBay in October. A great runner for many years and could easily be again. Not a show car, but good reliable, unique transportation. One of only 815 made in 1964. $800 or best offer."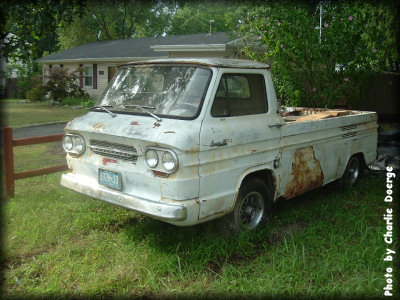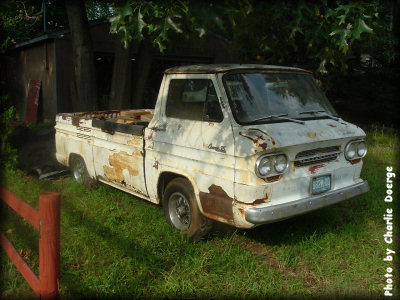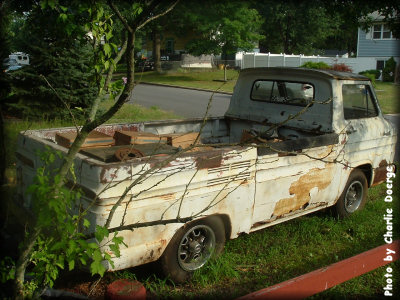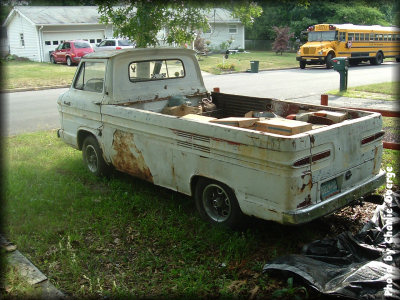 Very happy that the truck found a new home but I would sure like a little more info on the new owner!
Information from the data plate
| | Description | | | | Description |
| --- | --- | --- | --- | --- | --- |
| STD | Standard equipment | 5545CD | White, two-tone | none | N/A |
(Click on a heading in the table for more information on that item.)