Well-Preserved Family Camper
The newest owner of this '64 Rampside is Chris Schmit of Bainbridge Island, WA. He purchased the truck in 2004. Here's what Chris had to say about his acquisition:
"This vehicle is in excellent, original shape. It was delivered to Mr. & Mrs. William Bowers of Bellevue, WA in 1964 with the camper option. But it has spent most of its life with Charles Johnson of Mercer Island, WA. Charles bought the truck in 1974 with 18,000 miles on the odometer. It still had the camper intact and he and his family used it for many years in that configuration. It received a fresh coat of paint in the original color, and then in the late '80s a broken piston meant an entire re-build of the original engine.

With his family grown, and the camper gone, the truck was used less every year. So when Charles let me know he was thinking about selling it, I couldn't resist. He had so many memories in the truck, it was hard to say good-bye.

I know the Rampside will have a great home here—with lots of other Corvairs to keep it happy. I believe in driving my Corvairs. So even though when I put the ramp down, it is so nice I don't want to step on it, I know it will still be used—just the way it was designed.

This '64 Rampside is in excellent condition—it's clearly the most original Corvair I have ever owned, so it is certain ready to be shown off!"
Chris and I are both in Corvairs Northwest so I'm sure I'll be seeing a lot of his truck! Chris also told me that the engine date code is T0602, indicating a build date of June 2, which corresponds to the delivery date of June 1964, and a PowerGlide transmission. The differential's date code is 0330HS, indicating a build date of March 30 and for use with a 3.55:1 ratio PowerGlide.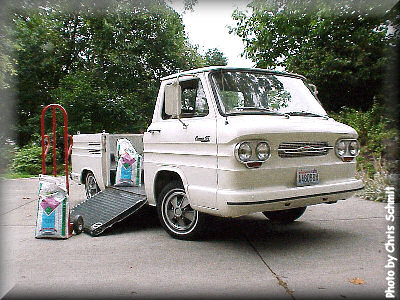 Information from the data plate
| | Description | | | | Description |
| --- | --- | --- | --- | --- | --- |
| STD | Standard equipment | 5526AA | Off-White (aka Ivory), solid color | 064 | June, 1964 |
(Click on a heading in the table for more information on that item.)