A Worthy Donor
In October, 2010, Ed Murphy of Spring, TX became the final owner of this well-used Greenbrier. He purchased it from a fellow named Harry in Angleton, TX. Before Harry, the van resided in Indiana, belonging to two people in New Albany. William Wells bought it from an unknown party in September, 2003 and sold it about a year later (October, 2004) to Joseph Blevens. The paperwork does not say when Harry bought the van from Joseph. During the time William owned it, the mileage increased from 89,000 to 91,200, so apparently the van was running then.
Ed had the following to say about this van:
"I purchased this van off eBay for $200 as a parts vehicle, specifically for the 95 HP FC drive train, minor hardware, wiring, and template for restoring my other '65 van (#908). I was able to use many parts for that purpose but decided to use the full drive train in my '61 Rampside. It was thoroughly rusted away from just above floor level to the ground. I am surprised that it didn't come apart while loading it on the tow truck when I purchased it. There was far too much lower-body rust to salvage the van for restoration. After stripping all useful items it was hauled off for scrap. The happy news is that I used as much possible from it."
Ed had one low-res photo to share -- RIP!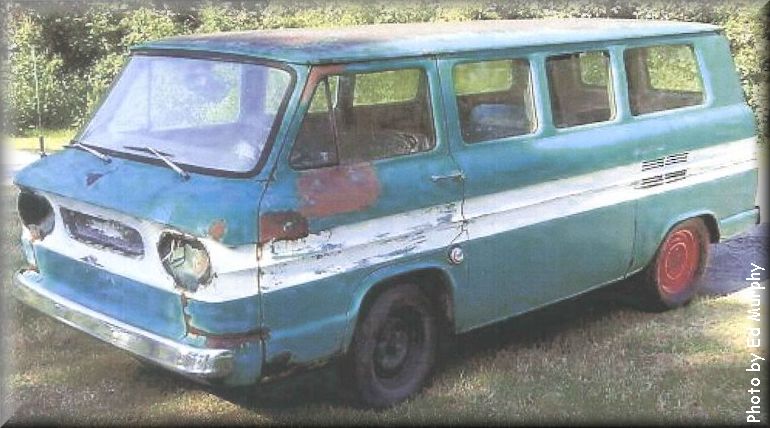 Information from the data plate
| | Description | | | | Description |
| --- | --- | --- | --- | --- | --- |
| STD | Standard equipment | 5510AA | Turquoise, solid color | None | N/A |
(Click on a heading in the table for more information on that item.)