We're Gonna Have Fun, Fun, Fun...
I purchased this Lemonwood Yellow '66 Corsa 140 convertible in November, 1992. Unlike my three prior Corvairs, This car had already been totally restored, although not all that recently (1979). The previous owner, Chuck Sismey, had taken wonderful care of the car so, for once, I didn't have a big project in which to dive.
Instead, I have had fun with this car, driving it around Washington and Oregon. I also have enjoyed tracking down various '66 options and adding them to the car. (A list is below.)
The picture below was taken at Kelson's Mercantile in Covington, WA on July 12, 1998, during the first Corvairs Northwest Discontinued & Orphan Car Show (& Picnic).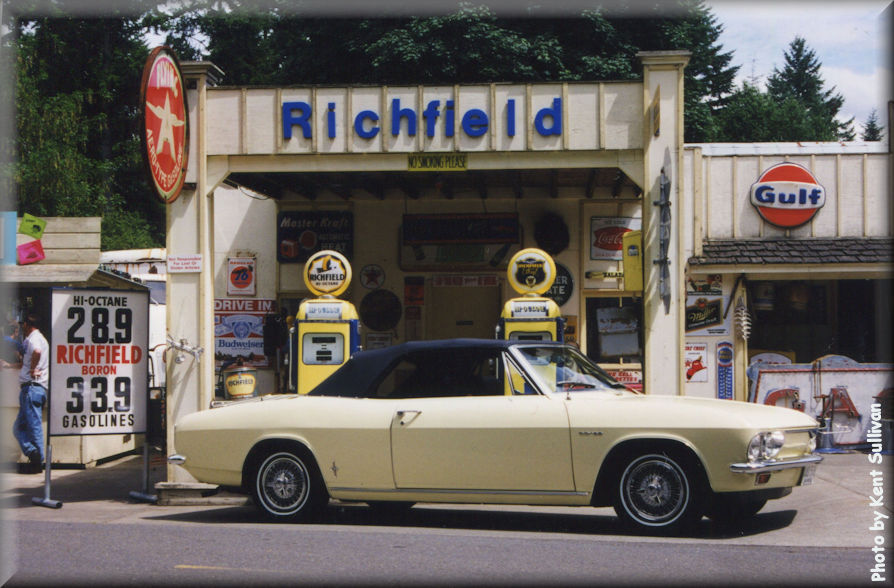 This picture was taken for an article (that ended up not being published) for the Microsoft internal newsletter, the Micronews. The article was to be a playful response to Bill Gates' "top 10 reasons I love my PC" from his keynote speech at Comdex Fall '97. The #1 reason was "I can use Microsoft CarPoint to show Ralph Nader my Corvair collection." The article was going to show that, in fact, at least one Microsoft employee does own a Corvair.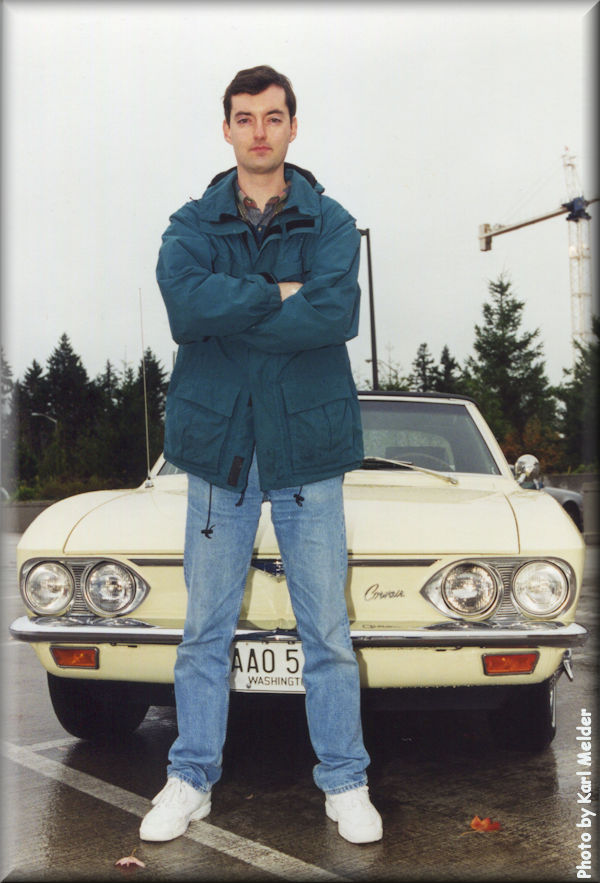 This Corvair has been a reliable traveler for many years and was the car that both of my sons learned to drive stick in. It has also been the family's default choice for attending Corvair events both near and far. Its longest trip was to the Lake Tahoe CORSA convention in 1999. My mom Jean and I also drove it many places in Washington and Oregon during her yearly summer visits. Here we are on U. S. 20 in the North Casacde Mountains on August 13, 2000: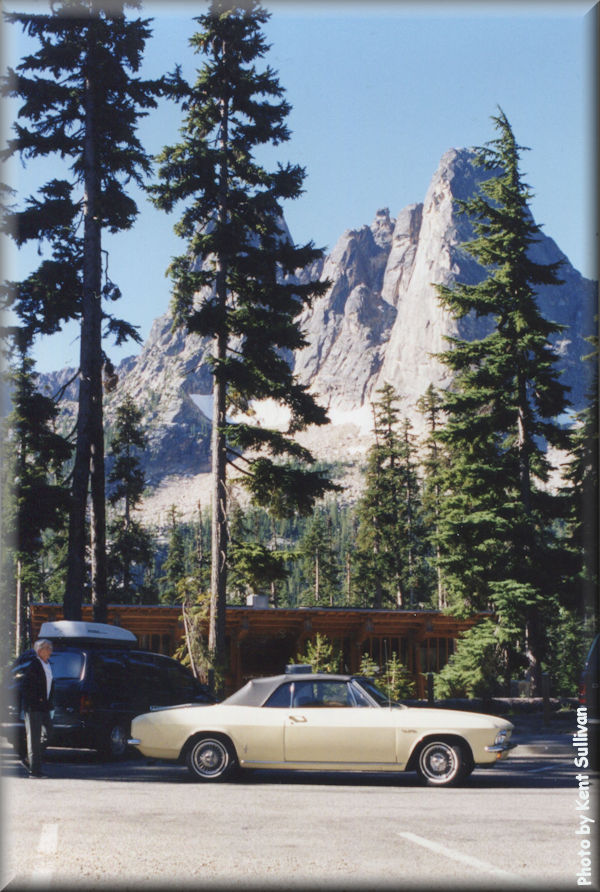 Below is a list of correct-for-1966 options and accessories I have added to the car (items that came with the car are in yellow):
Options
Tinted windshield (code A02), Deluxe seat belts (code A39), Front headrests (code A82), Wood-grained sport steering wheel (code N34), Telescoping steering column (code N36), Quick steering (code N44), Simulated wire wheel covers (code P02), Spare wheel lock (code P19), AM/FM radio (code U69), Hazard flasher (code V74), and Convenience equipment (Door edge guards, Engine compartment lamp, Inside day/night mirror, Outside remote mirror, Trunk lamp, all code Z19)
Accessories
4-speaker stereo multiplex, Ash tray lamp, Contour front floor mats, Gas filler door guard, Locking gas cap, Luggage rack, Parking brake warning light, and Tissue dispenser.
After about 25 years, the quality restoration that Chuck Sismey had completed in 1979 finally started showing its age. The main issue was rust in the windshield cowl panel, a common problem with late model Corvairs. Duanne Luckow and Duane Wentlandt of CORSA Oregon knew just what to do as they have repaired several Corvairs with this same issue. The photos below show before, during, and after the repair in late April, 2005.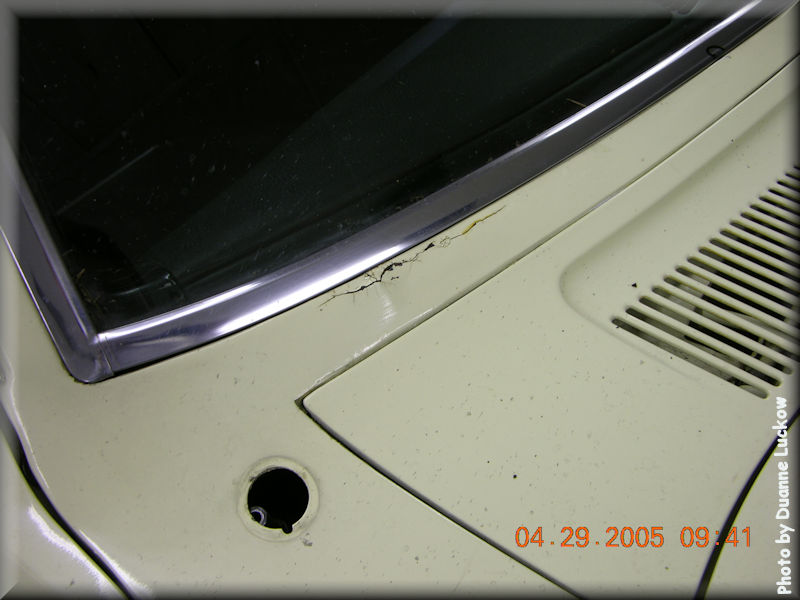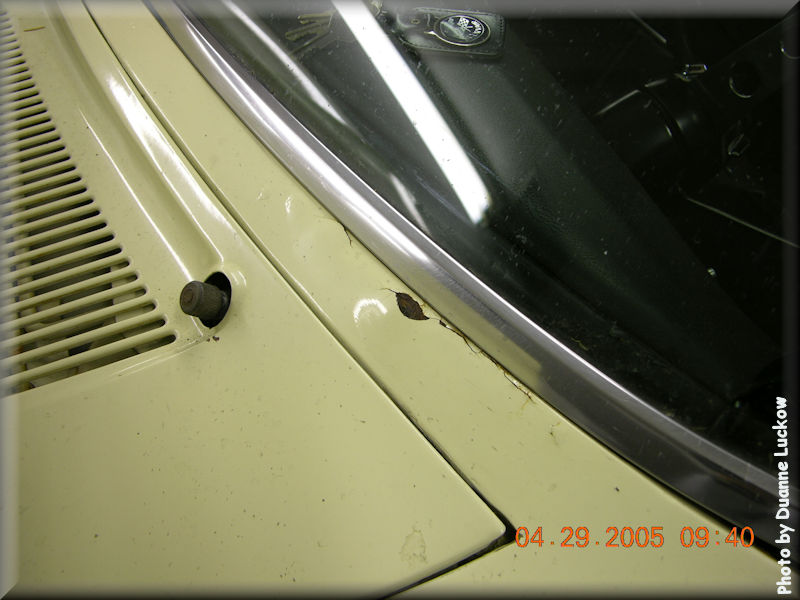 The pictures above show the rust on the passenger's and driver's sides, respectively. The rust was bad enough that water was sometimes getting into the passenger compartment.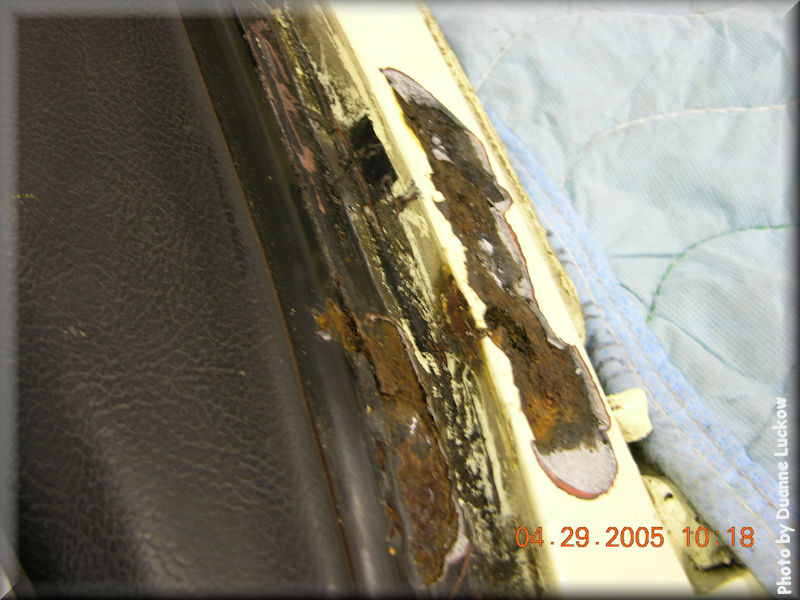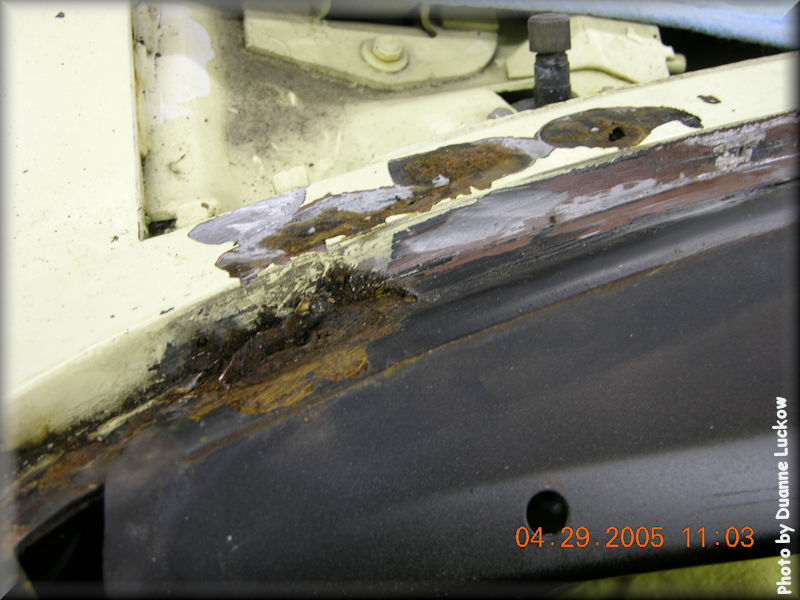 With the windshield out, the guys scraped the areas to reveal the extent of the damage. As with most of these situations, the problem extended into the car under the windshield.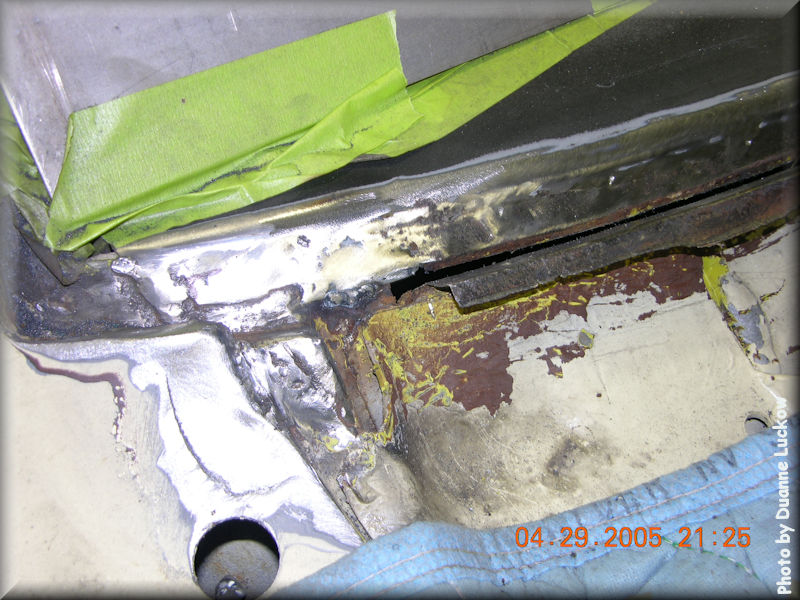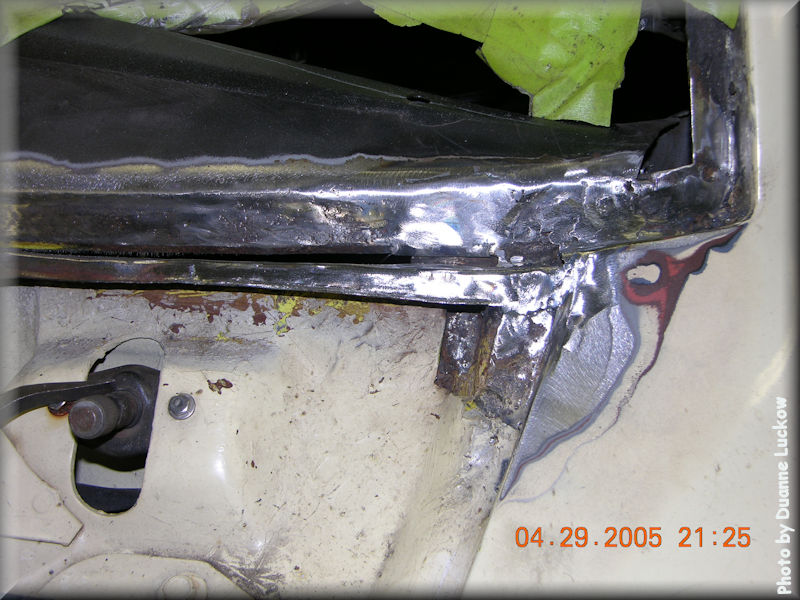 Shiny new metal! These photos show the areas after being repaired by welding.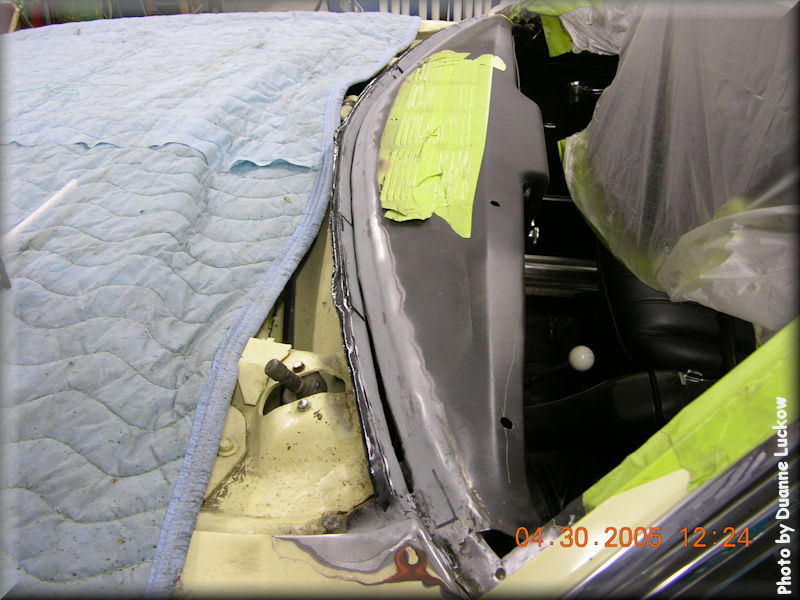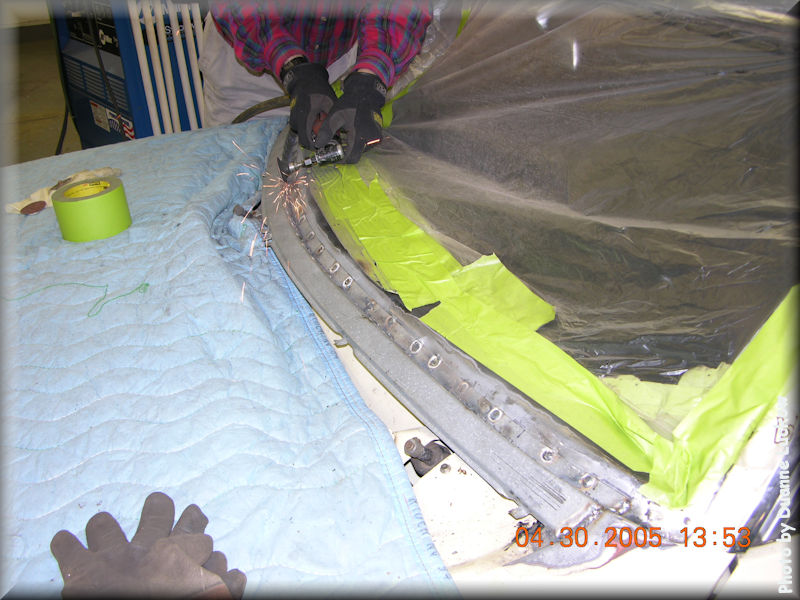 These two photos show the driver's side area after priming and after welding in the replacement panel. The second photo also shows Duane grinding some of the welds smooth. I was very fortunate to locate a NOS replacement panel that was galvanized. Chevy never built Corvairs with this galvanized panel but started offering it through the parts department at some point.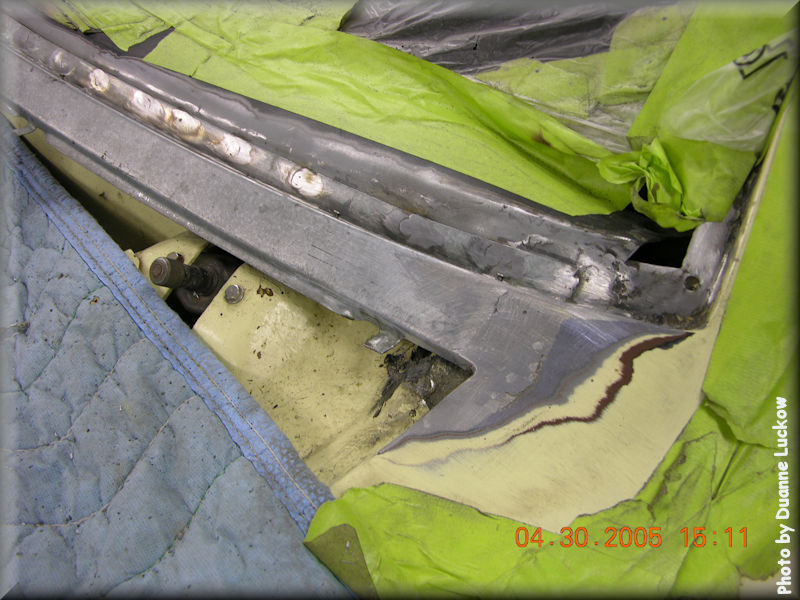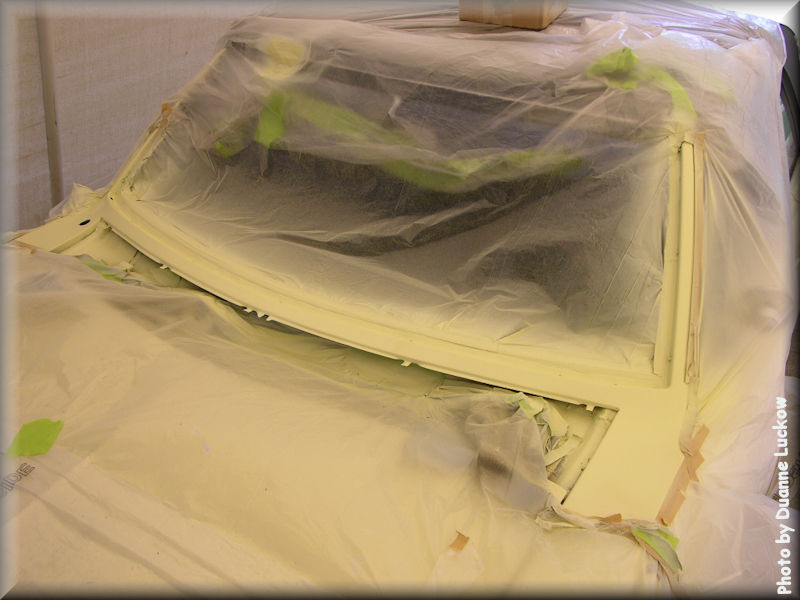 The first photo above shows a close-up of the welding on the driver's side, after grinding smooth. The second photo shows the area after painting. I was lucky to have a small amount of Lemonwood Yellow acrylic lacquer paint left over from Chuck's restoration in 1979. Although it had been stored in its original gallon can (along with a lot of air, which dried it out quite a bit), Duane was able to revive it with a lot of agitation on his paint shaker plus some lacquer thinner. He was able to create a pint of paint, half of which was used.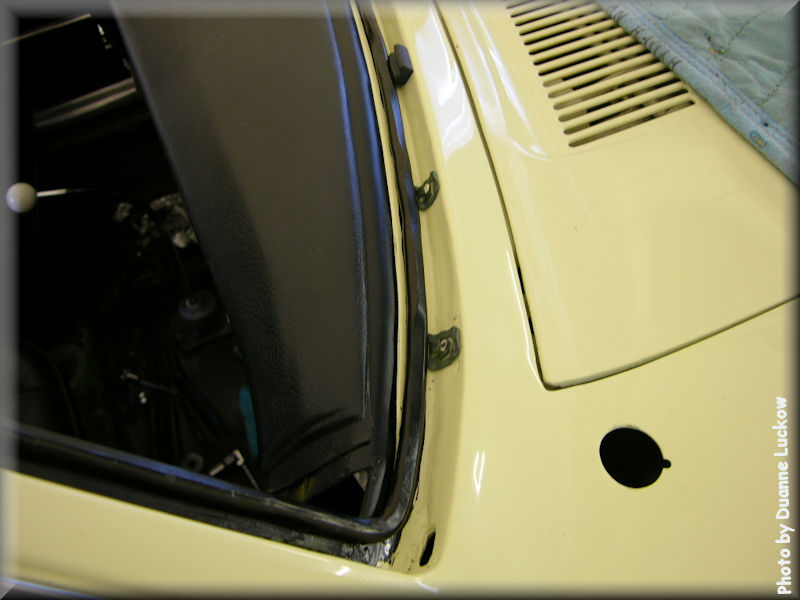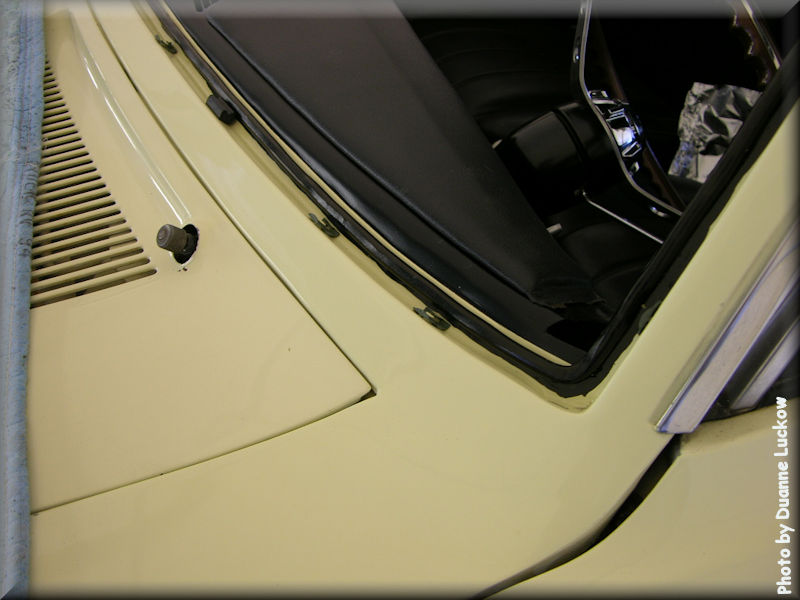 I am very pleased with the result. Great job Duanne and Duane!