1965-69 Corvair Coil Spring Tags
(updated August 2016) This article was published in the June, 2005 Taking Stock, the newsletter of the Stock Corvair Group. It was reprinted in the December, 2005 CORSA Communique.
Late-model Corvairs were equipped with a variety of suspension coil springs, depending on the body style and whether certain optional equipment was present. Every factory-installed coil spring had a tag attached to it featuring the part number and a two-letter code in a repeating pattern.
The two-letter code were apparently used to help assembly line workers quickly locate the correct springs for a given car, since a two-letter code was shorter than a 7-digit number (and was also printed in larger type on the tag). The few Chevy final assembly broadcast sheets I have seen list the two-letter code for the rear springs. Interestingly, the front springs are coded on the broadcast sheets using a different system; the two examples I have seen to date show D1 (for HC) and D4 (for HE). Mike McKeel suggested in December, 2005 that the front codes are probably for the entire front suspension assembly since it was installed as a unit on the assembly line. That makes sense.
Tables 1 and 2 list the spring applications, their part numbers, and the corresponding letter codes. You will notice different springs for:
Convertibles ("-67") from coupes and sedans
Standard suspension vs. Heavy Duty (RPO Z17 in 1965 and RPO F41 thereafter)
Air conditioned cars (RPO C64)
Table 1: Front Springs
| | | |
| --- | --- | --- |
| Application | Part Number | Code |
| Standard (all exc. -67) | 3857688 | HC |
| Standard w/ AC (all exc. -67) | 3857689 | HD |
| Standard (-67) | 3857690 | HE |
| Standard w/ AC (-67) | 3861886 | HF |
| Heavy Duty (all exc. -67) | 3875088 | HJ |
| Heavy Duty (-67) | 3875089 | HK |
Table 2: Rear Springs
| | | |
| --- | --- | --- |
| Application | Part Number | Code |
| Standard (all exc. -67) | 3859201 | HA |
| Standard (-67) | 3859202 | HB |
| Heavy Duty (all exc. -67) | 3875090 | HL |
| Heavy Duty (-67) | 3875091 | HM |
Interestingly, cars equipped with air conditioning had unique springs in the front but not in the rear. Field research by Dan Davis indicates that A/C-equipped cars (without heavy-duty suspension) used the convertible (-67) rear springs.
The tags were between 15/16" wide and were either white with black lettering (rear) or black with white lettering (front). The tags varied in length, apparently because they were applied manually from a continuous roll (like a tape dispenser). Also like tape, the tags had pressure-activated adhesive on the back. Figure 1 shows part of a sample tag.
Figure 1: Spring Tag (partial)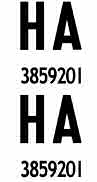 Note: Based on samples seen to date, replacement coil springs available from the Chevy parts department featured yellow tags with black lettering and included only the part number, not the two-letter code.
Clark's Corvair Parts has expressed willingness to reproduce the spring tags but they need enough people to indicate interest before moving forward. Please contact them if you are interested. The part number is C11713 and the approximate cost is $2. (See page 26 of the 2005 Supplement.)
I would like to thank the many Corvair enthusiasts who shared spring tag samples and information with me. Without their efforts, this article would not have been possible.
After creating the taxonomy of spring tags, Dave at Coil Spring Specialties in St. Mary's, KS was able to verify my research by looking at the original Chevy spring blueprints that he has on file.