(subtitled: Corvairs en Suisse, Corvairs in der Schweiz)
By
Kent Sullivan
Inspired by Dave Newell's years of research
This article was published in the September, 2008 CORSA Communique.
My fascination with Corvairs built and sold outside the U.S. began in earnest when I acquired a 1966 Corsa convertible, built in Oshawa, ON, Canada, in 1998. Dave has been researching Corvairs built and sold outside the U.S. for many years, the first published article being "A Foreign Intrigue" in the San Francisco Bay CORSA Spyder Web newsletter in the 1970s, later republished in the now out-of-print The (In)Compleat Corvair.
Previous articles in the CORSA Communique include a close-up look at a 1966 Corsa coupe built in Antwerp, Belgium from parts supplied by Oshawa (January, 2000); a detailed analysis of 1966 Corvair production statistics for Canada, Belgium, and Switzerland (June, 2000); and a close-up look at a 1966 Corsa coupe built in Willow Run, MI but sold new via Belgium (July, 2002). As described in those three articles, cars assembled in Belgium and Switzerland are known as "Completely Knocked-Down" units or CKDs while cars built in the U.S. or Canada but sold new abroad are known as "Single-Unit Pack" or SUPs. SUPs were brought into the country because GM Suisse[1] did not make the full line of Corvairs.
The two Belgian Corvairs described in the Communique articles had previously made their way to the U.S. so were relatively easy to research. To date, however, no Swiss-built Corvairs are known to reside in North America. This is likely due to nature of production in the two countries: The Belgian production was targeted at Belgium, the Netherlands, and Germany while the Swiss cars were targeted specifically at Switzerland, Austria, and Italy. As a result, almost double the number of Corvairs were built and sold via Belgium as in Switzerland. Finally, the proportion of U.S. citizens living in Europe outside of Switzerland was higher than inside, increasing the chances of Belgian-built cars being brought back to the U.S. over Swiss-built. Also of note is the general "car crazy" culture of Switzerland that stretches back at least 50 years. Switzerland is a wealthy, healthy car market with a long history of interest in cars made around the world, so it made sense for General Motors to invest in production primarily for the Swiss market.
For all of these reasons, when I learned that I would be making a business trip to Denmark in October 2007, plans were immediately begun to, at long last, visit in person as many Swiss-built Corvairs and their car-crazy owners as possible. The trip would not have been possible without the enthusiastic efforts of Urs Tanner, past president of the Swiss Corvair Club. Urs created a three-day itinerary chock full of visits to Corvair owners across Switzerland and personally chauffeured me in his freshly-restored 1962 Monza coupe. Urs also provided much-needed language interpretation help since I speak only English while most of the Corvair owners visited were native French or German speakers. Heartfelt thanks are due to all of the Corvair owners, who opened their homes to me and made sure I was well-fed with Swiss-made cheese, wine and chocolate.
Part 1 of this two-part series focuses on introducing you to the wonderful people who own Corvairs in Switzerland and their cars while Part 2 will focus on photo-documenting the many interesting differences in Corvairs produced in Switzerland.
Day 0: Friday, October 5
After finishing business in Copenhagen, Denmark, I flew that evening to Geneva, Switzerland and was met by the President of the Swiss Corvair Club, Bernhard Willi. Because Bernhard does not speak much English, he fashioned a sign from a Corvair calendar so I had no trouble finding him. Bernhard and Hedi welcomed me into their home in the historic town of Nyon, just north of Geneva and right on beautiful Lake Geneva. Nyon has existed for centuries and was an outpost of the Roman empire. Urs Tanner, Bernhard's nephew and past president of the club, met me at Bernhard and Hedi's house. We enjoyed a delightful dinner and a photo review of many past Swiss Corvair club events.
The Swiss Corvair club was chartered in 1989 and is going strong today. Approximately three dozen families are members, from Switzerland, Germany, Austria, France, the Czech Republic, and Hungary. The grand tour that Urs assembled for me introduced me to about 1/3 of the club. It was truly inspirational to spend time with so many Corvair enthusiasts whose love for the car transcends the many difficulties in restoring and maintaining a car with so few in-country resources.
Day 1: Saturday, October 6
The morning started off a bit damp but it definitely did not dampen anyone's enthusiasm! Our morning was to be spent at the Geneva Classics show but first, we all assembled at Jean-Philippe Bran's amazing facility in the village of Crassier. Bernhard and Hedi led the way in their immaculate silver '64 Spyder convertible, which was sold new in Switzerland but assembled in Willow Run, MI, which makes it a SUP.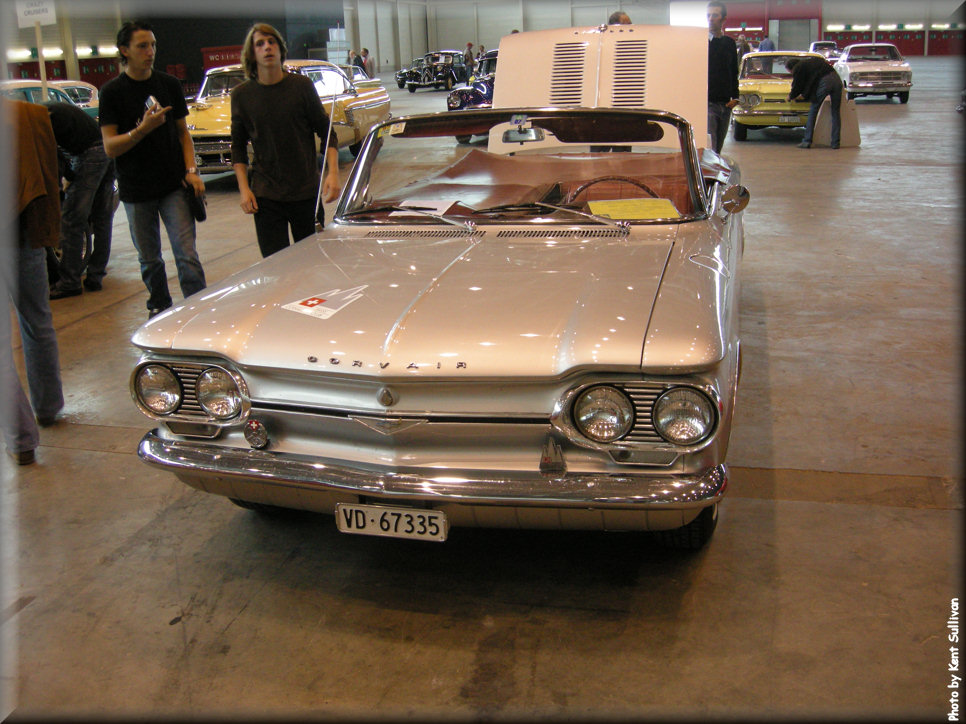 Bernhard and Hedi Willi's '64 Spyder convertible, photographed at the Geneva Classics show in the "old timers" parking area.
Urs and I followed in his freshly-restored custom-yellow '62 Monza coupe, which he got on the road specifically to chauffeur me for the weekend. What a great ride! This Monza is also a SUP from Willow Run.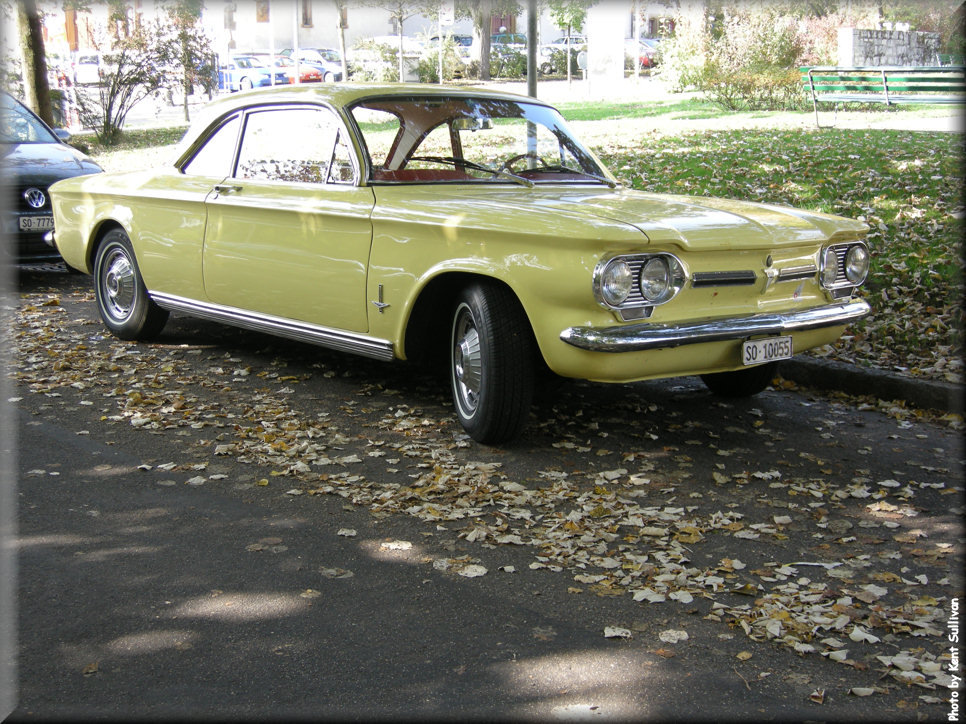 Urs Tanner's '62 Monza coupe, photographed just outside the historic walled old town of Solothurn.
When we arrived at Jean-Philippe's shop, we had enough cars to hold a Corvair show! Peter and Therese Dürig were present with their white '66 Monza convertible, a SUP from Oshawa, Ontario.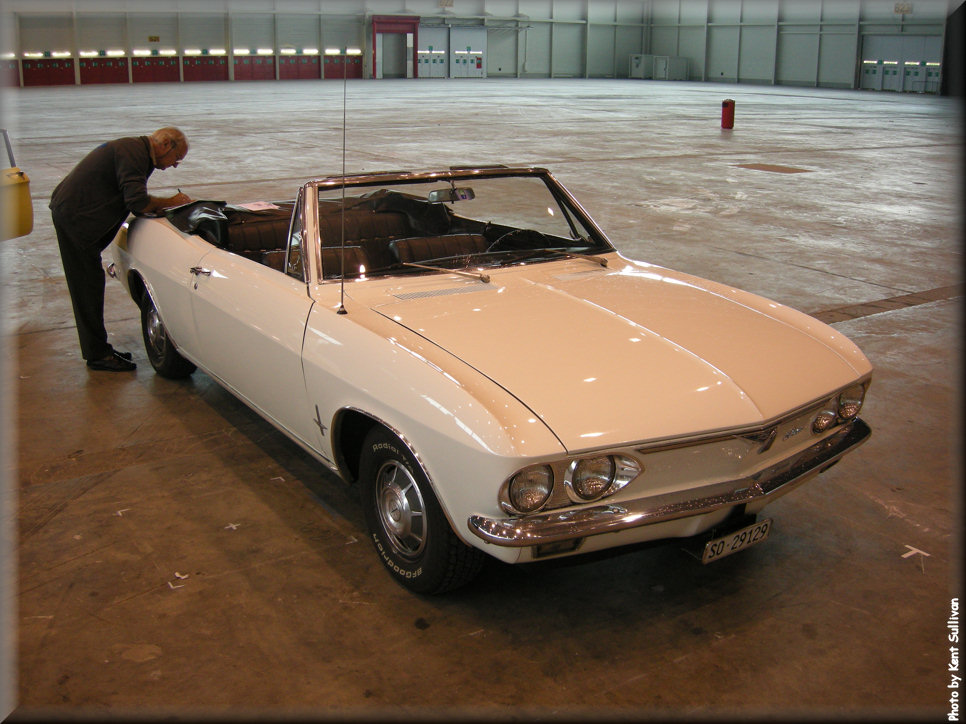 Peter and Therese Dürig's '66 Monza convertible, photographed at the Geneva Classics show.
Kurt and Silvia Weibel brought their red '65 Monza convertible, a private import from Willow Run. By this I mean that it was built and sold new in the U.S. and then imported into Switzerland at a later date.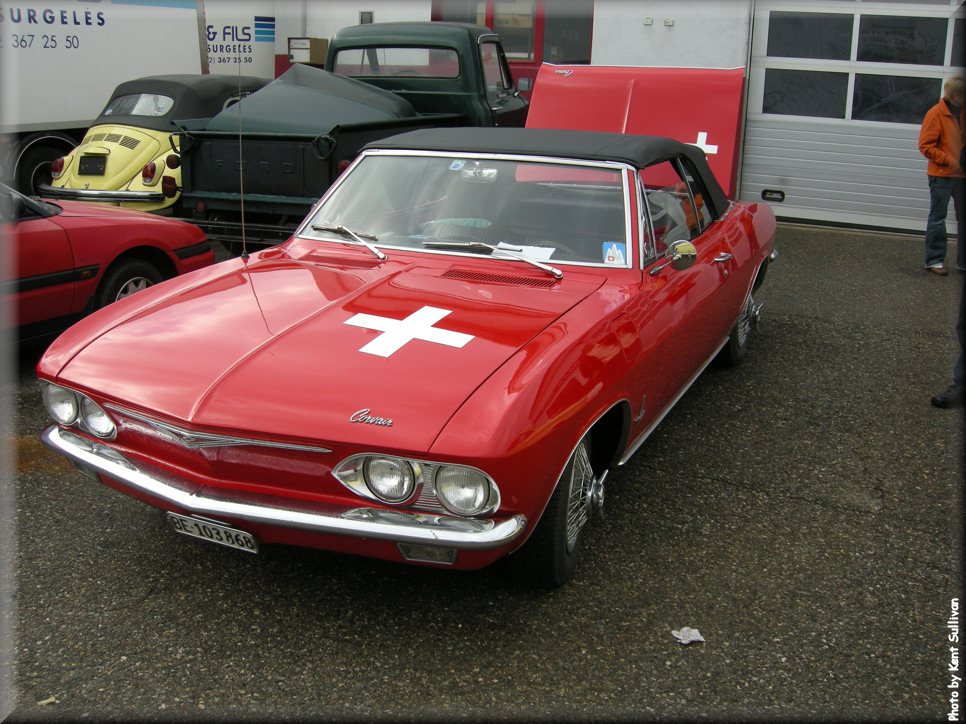 Kurt and Silvia Weibel's '65 Monza convertible, photographed in front of Jean-Philippe Bran's shop.
Jean-Philippe greeted us warmly and proceeded to blow my mind with his fantastic collection of Corvairs. The crown jewel, for a history buff like me, was his white '67 Swiss-built 500 sedan, one of only 48 Corvairs built in Switzerland that year, the final year of Swiss production. All 48 cars were 500 sedans and this is serial number 1!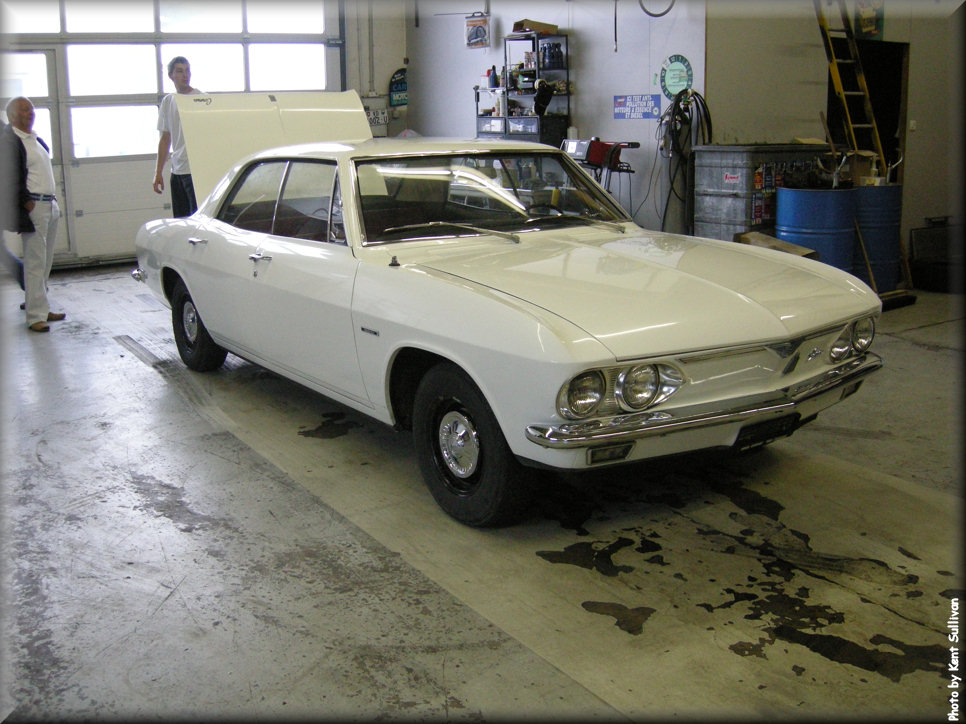 Jean-Philippe Bran's '67 500 sedan, photographed inside his shop.
Jean Philippe also owns two other Swiss-built Corvairs, both parts cars: a blue '64 700 sedan (serial number 16 out of 264) and a white '65 Monza sedan (serial number 7 out of 336). He is restoring a maroon '66 Corsa convertible (private import from Willow Run) and may also restore a green '68 Monza coupe (a private import from the US, naturally, since Willow Run was the only plant still making Corvairs in 1968).
Jean-Philippe also owns a rare 1924 Mathis M, built in France. I did a double-take when he opened the engine cover—I first thought the engine was missing! The engine is a tiny four-cylinder that makes 8 horsepower.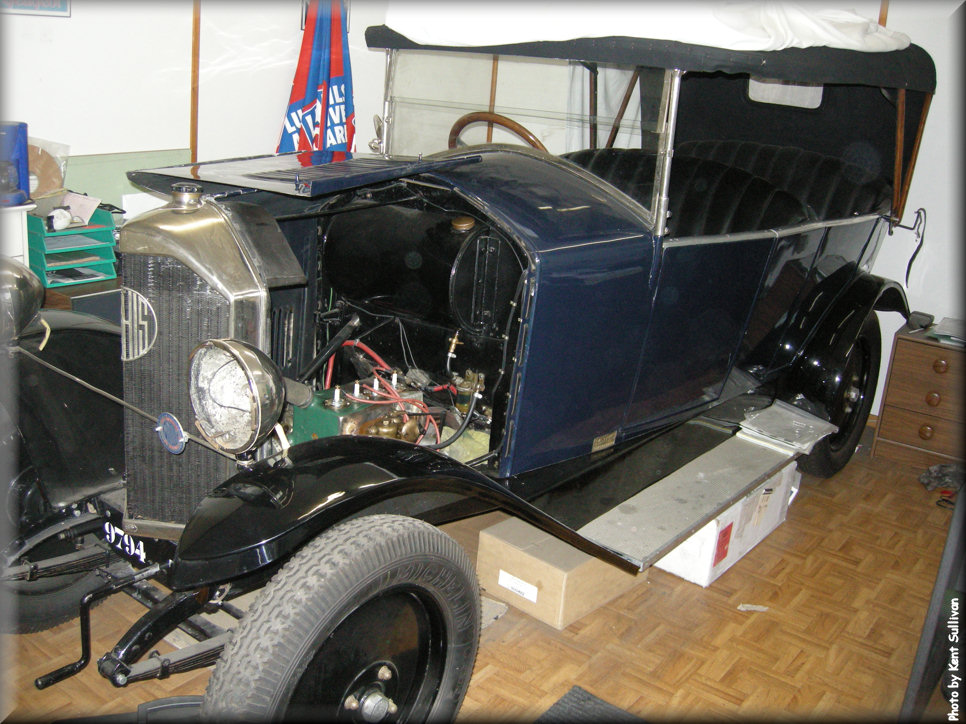 Jean-Philippe Bran's '24 Mathis M, photographed in his shop.
Speaking of France, Jean-Philippe's shop was literally right across the road from France. I photographed one of the signs on the border. Otherwise, the border is totally open between the two countries.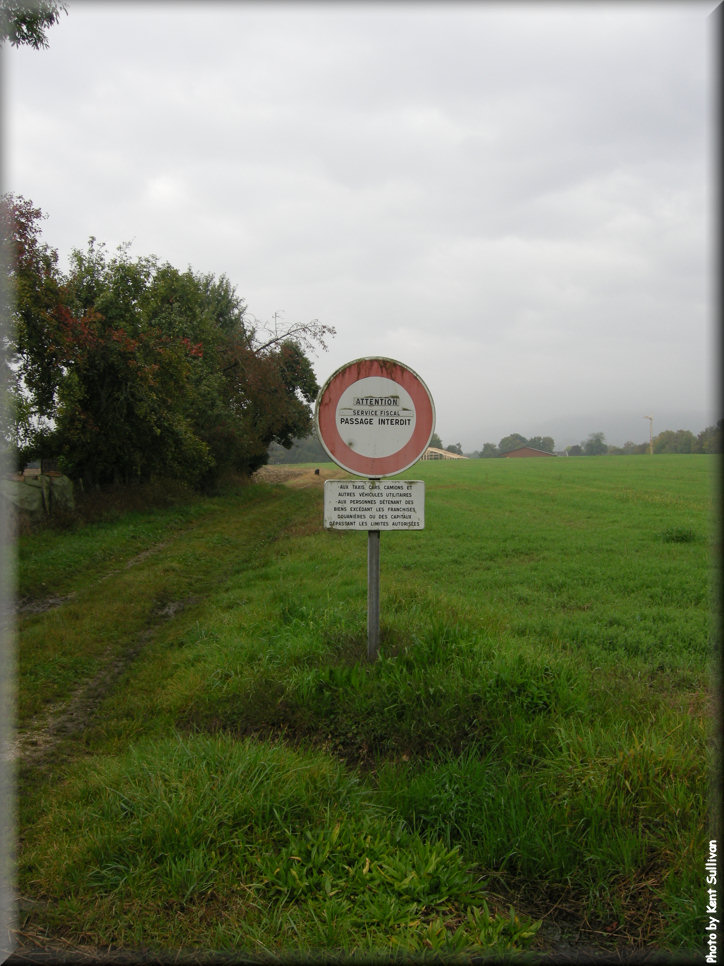 Sign that one sees when contemplating crossing into France from Crassier, Switzerland.
Time was short with Jean-Philippe and we had to leave all too soon for the Geneva Classics show. Fortunately, I was able to return in April 2008 to spend most of a day with Jean-Philippe and his cars, the details of which we'll see in Part 2.
After a short drive into Geneva, we arrived at the Geneva Palexpo convention center near the airport. A really nice touch was covered parking for "old timer" cars like Corvairs. The show, which completely filled one hall, was jaw-dropping. Cars of every imaginable type were there, from Opel Kadetts to Ford GT-40s (the original), to Bugattis, to Lancias, to... The list goes on. There was even a fellow there demonstrating scale model Ferrari engines. They sounded great!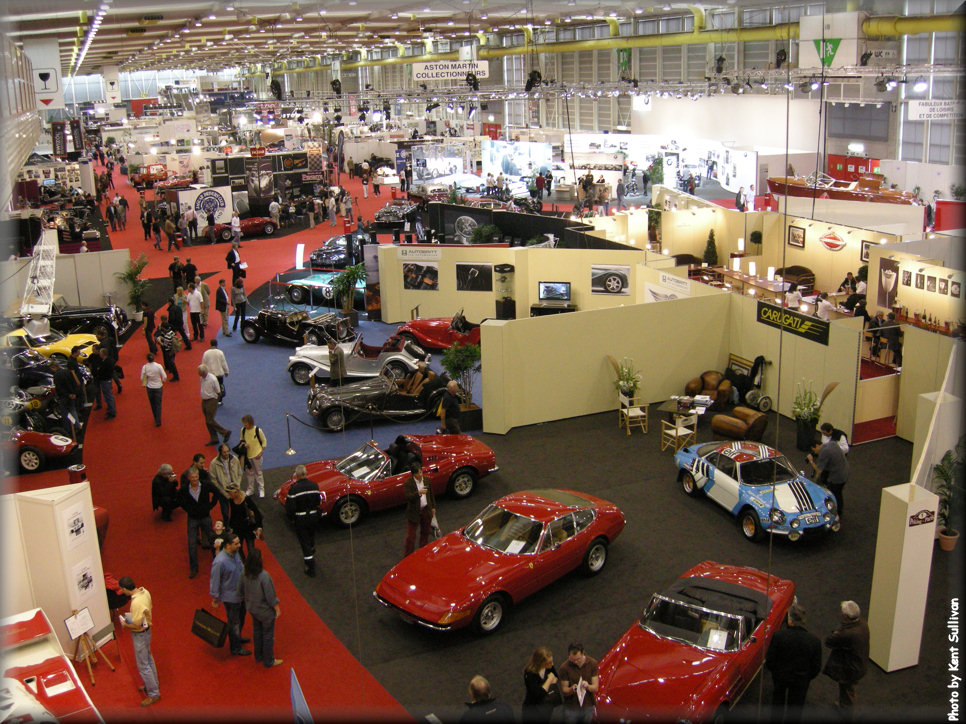 View of the Geneva Classics show from the second-floor eating area.
When we finally had to depart from the show, we found a second show going on in the old-timer's parking area. I got to see in person my very first BMW 700 coupe and, best of all, I got to see and hear run my very first Tatra, a model 603. Wow!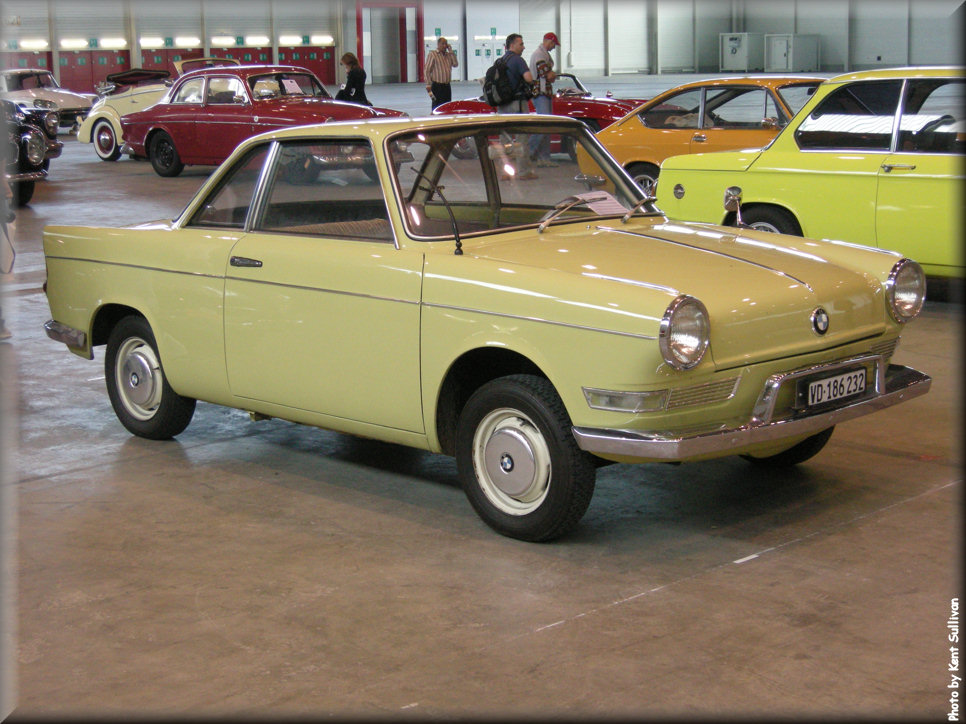 BMW 700 coupe, photographed at the Geneva Classics show.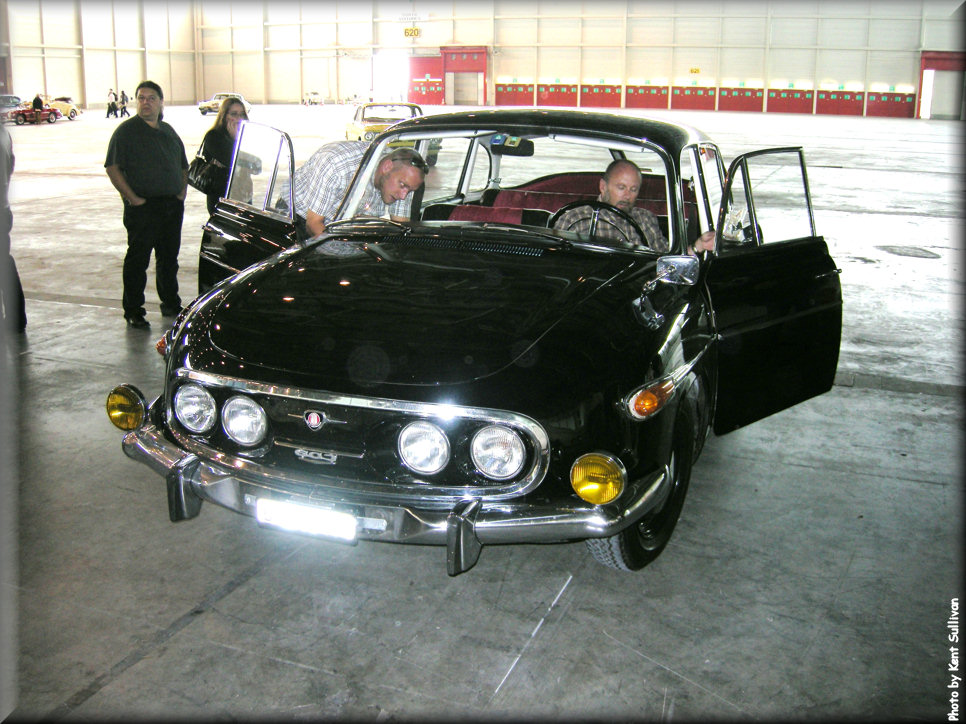 Tatra 603 sedan, photographed at the Geneva Classics show.
Urs and I said goodbye to the Durigs, the Weibels, and the Willis and set off to meet Adrian Boschung, in Flamatt. As Urs explained to me, Switzerland is composed of 26 cantons, which are somewhat similar to states but more independent, making Switzerland a federation rather than a union like the U.S. In fact, the official name of the country is Swiss Confederation, which is Confoederatio Helvetica in Latin, hence its ISO country code "CH".
Our trip began in the canton of Geneva, and we drove north and east around Lake Geneva, through the canton of Vaud, and almost the length of the canton of Fribourg to Adrian's house. Switzerland has four official languages: German, French, Italian, and Romansh. Urs explained how each region has a predominate language, reflected in the names of towns and street signs. Geneva and Vaud are very French while Fribourg (aka Freiburg) is in the transition area between French and German.
Adrian and his wife Silvana welcomed us into their home for yummy Swiss chocolate snacks. Oh yeah, we also looked at Adrian's nicely-customized '65 Corsa coupe, an Oshawa-built SUP. I say this to emphasize how hospitable everyone was who I visited. I think I gained a couple of pounds from the snacks alone!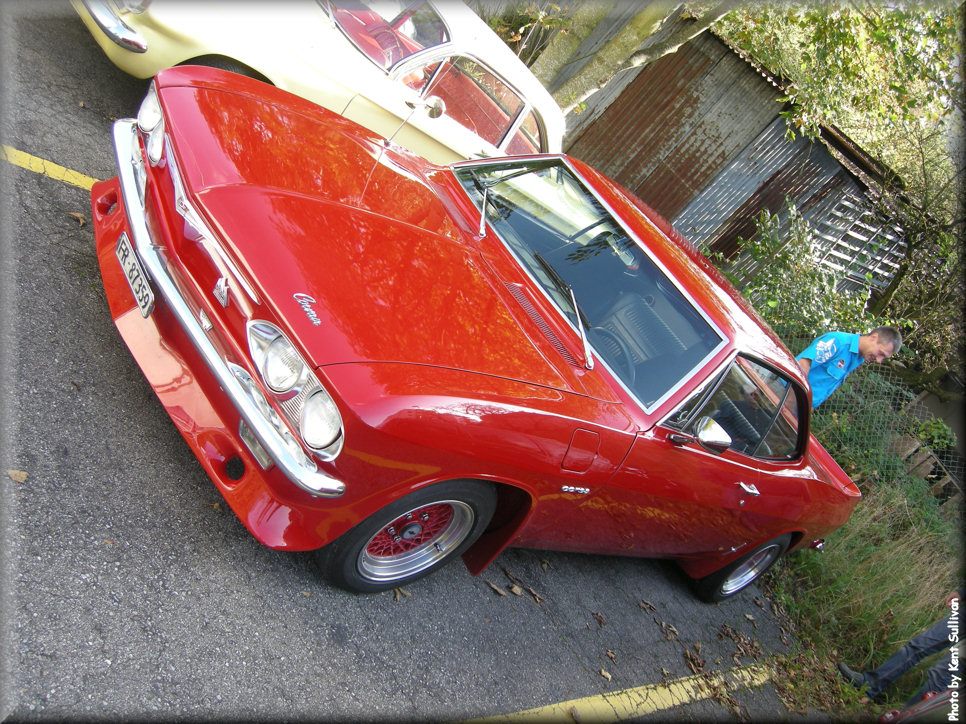 Adrian Boschung's '65 Corsa coupe, photographed near his apartment.
From Flamatt we left the main highways for some spectacular Swiss rural roads. These must have been purpose-built for Corvairs! If that wasn't fun enough, much of this leg of our journey was spent chasing a Swiss couple out for a jaunt in their red MG!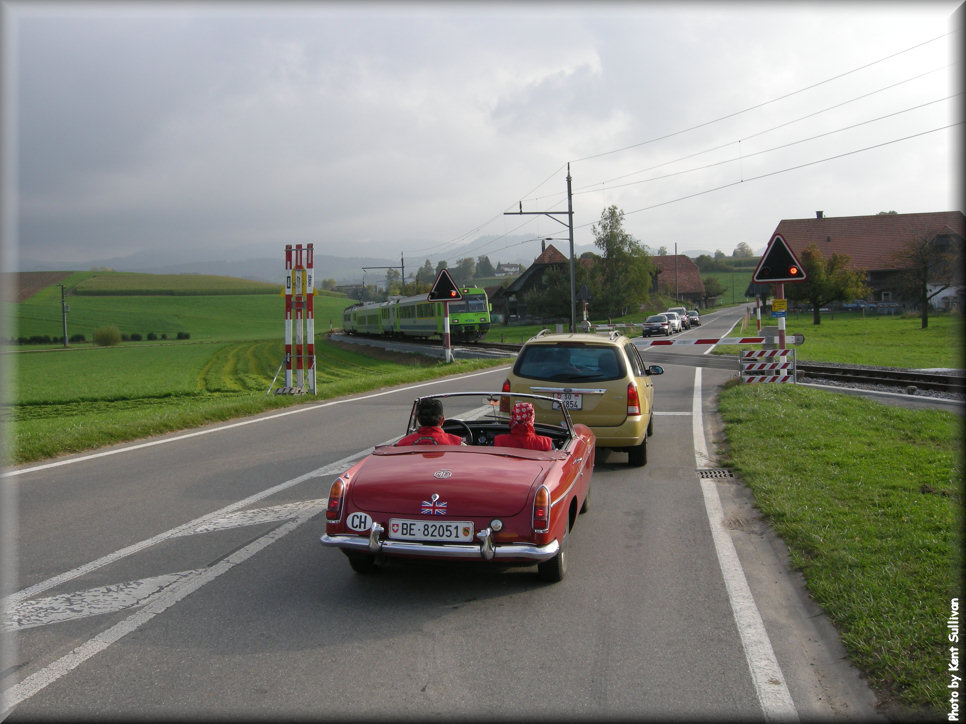 Picture-postcard-perfect scenery on the road between Flamatt and Uetendorf. Note the ever-present Swiss passenger train.
We drove into the canton of Bern to Uetendorf, to meet Antoinette Kupferschmid and her husband Beat Studer. Antoinette lovingly cares for her Swiss-built '64 700 sedan (serial number 54 out of 264). Antoinette did her best to stuff some more delicious Swiss treats into me!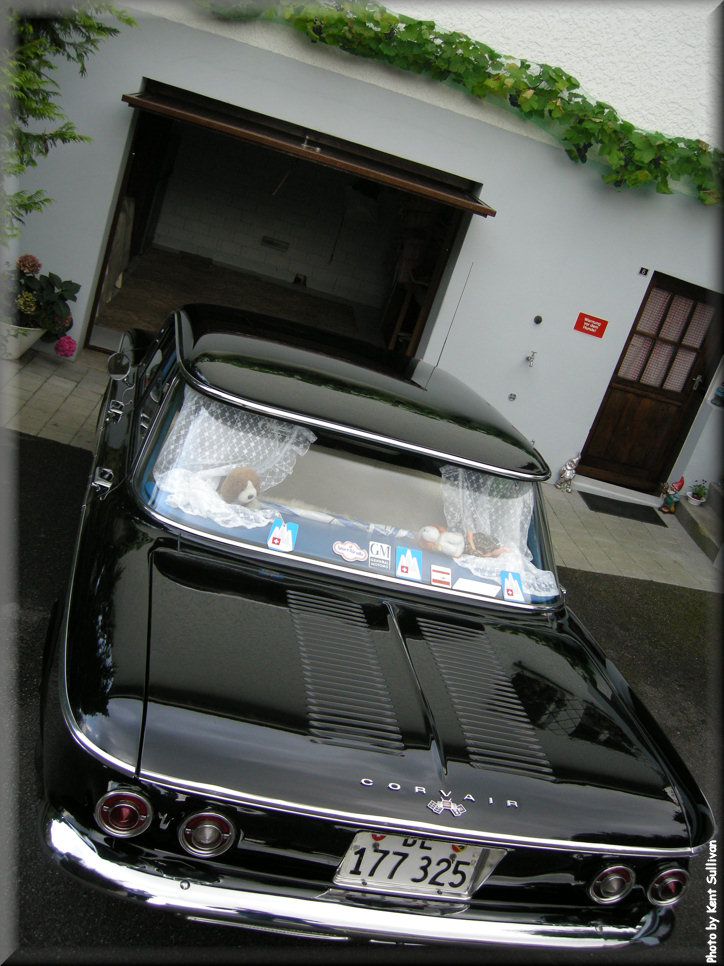 Antoinette Kupferschmid's Swiss-built '64 700 sedan, photographed in her driveway.
From Uetendorf, we drove a mixture of highways and back roads to Urs' house in Grenchen, in the canton of Solothurn. Urs is a doctor of veterinary medicine and his business occupies the lower floor of his home. It was neat to see his office and, of course, his other Corvair, a red '63 Monza convertible that was privately imported by a previous owner.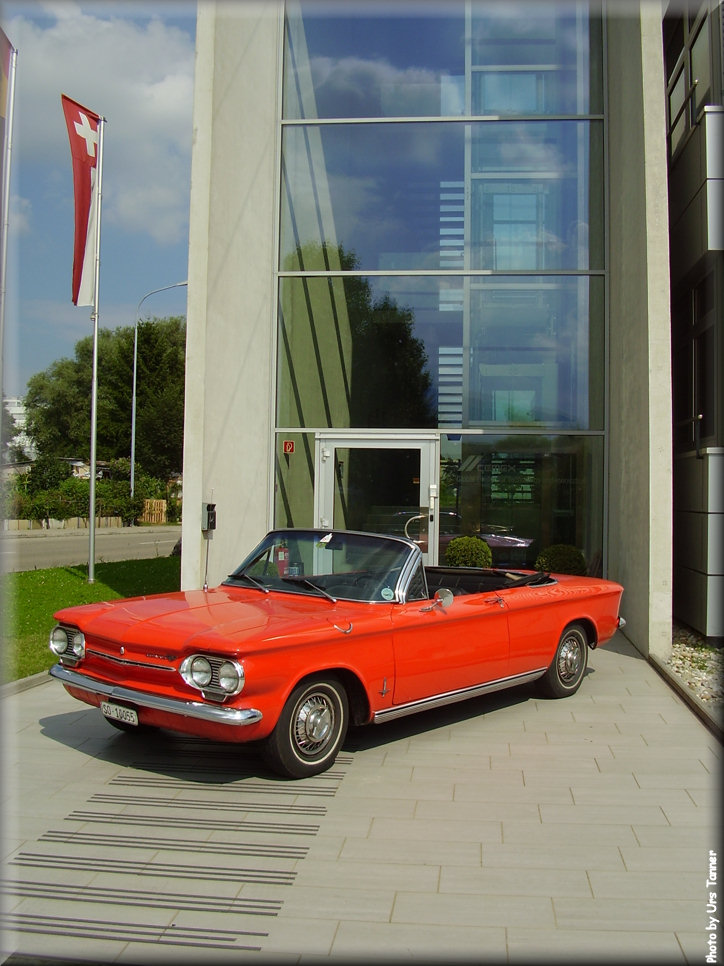 Urs Tanner's '63 Monza convertible, photographed in front of Cemex Research Group AG in Brügg, just south of the GM Suisse buildings.
Urs is definitely Corvair crazy—check out the "artwork" in his living room! What an incredible day!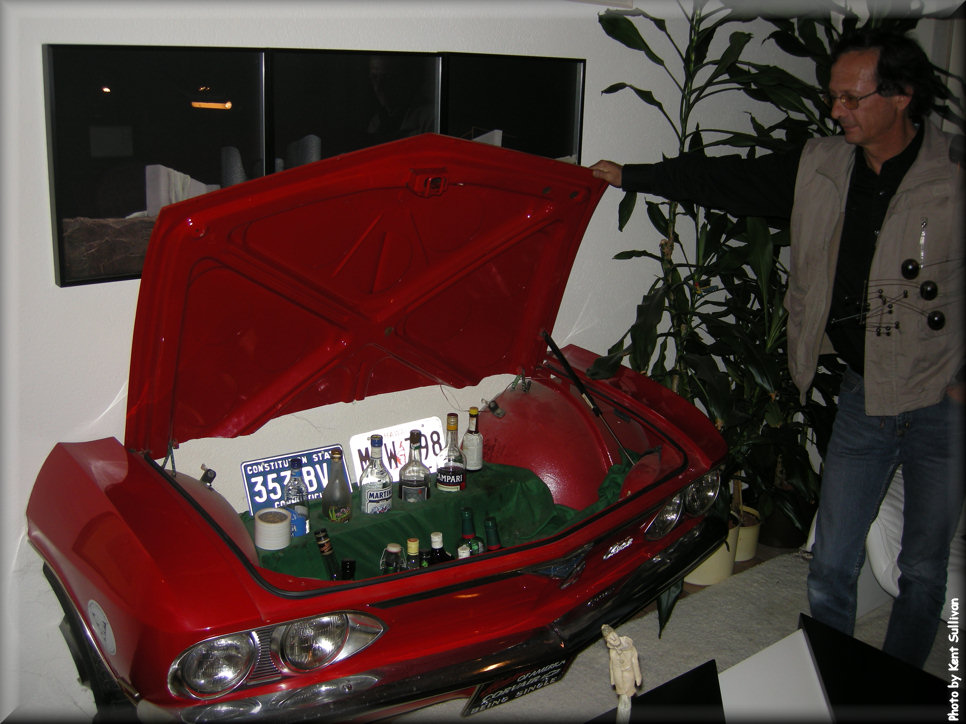 Urs Tanner demonstrates a working bar fashioned from a late model Corvair front section.
Day 2: Sunday, October 7
We set out on Sunday morning for a quick drive to the all-important Corvair city of Bienne (aka Biel in German), home to the now-defunct GM Suisse. The factory consisted of two buildings in the heart of Bienne and are still in good shape. According to a newspaper article Urs sent me, the factory closed its doors in August 1975. Co-op Switzerland later purchased the empty complex. In what's now known as the "Railway Station Center" (the office building) there are a number of businesses. Among those is the business pictured here, UPS Supply Chain Solutions—which, coincidentally, is leaving its European headquarters and moving from Bienne to Brussels. Dave Newell subsequently learned that GM sold the assembly building in the spring of 2008 so its fate is unknown.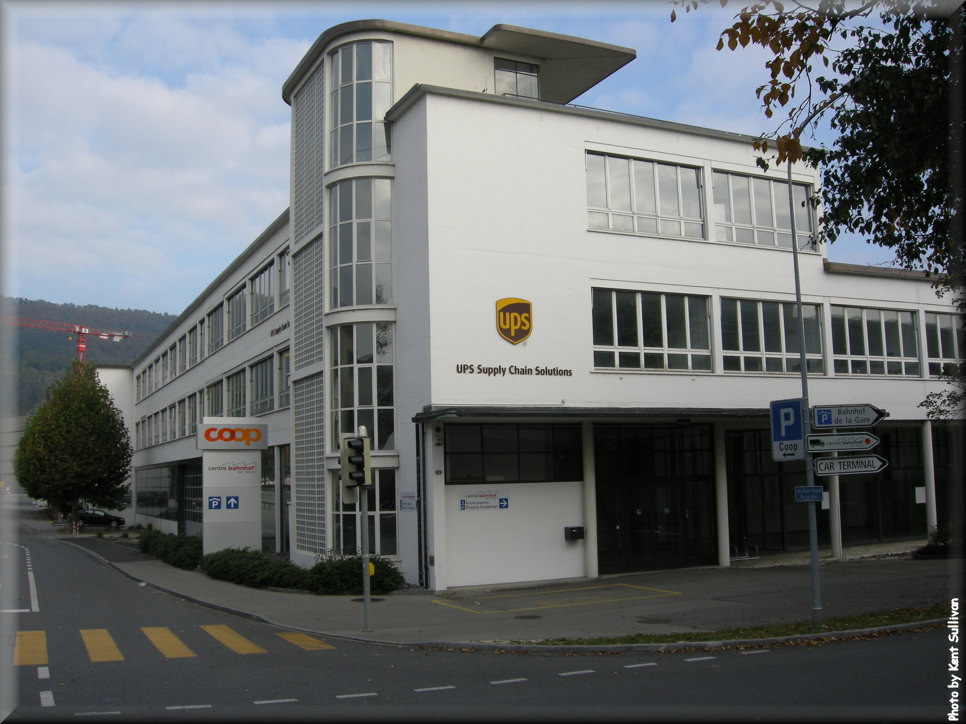 GM Suisse office building in Bienne (Biel).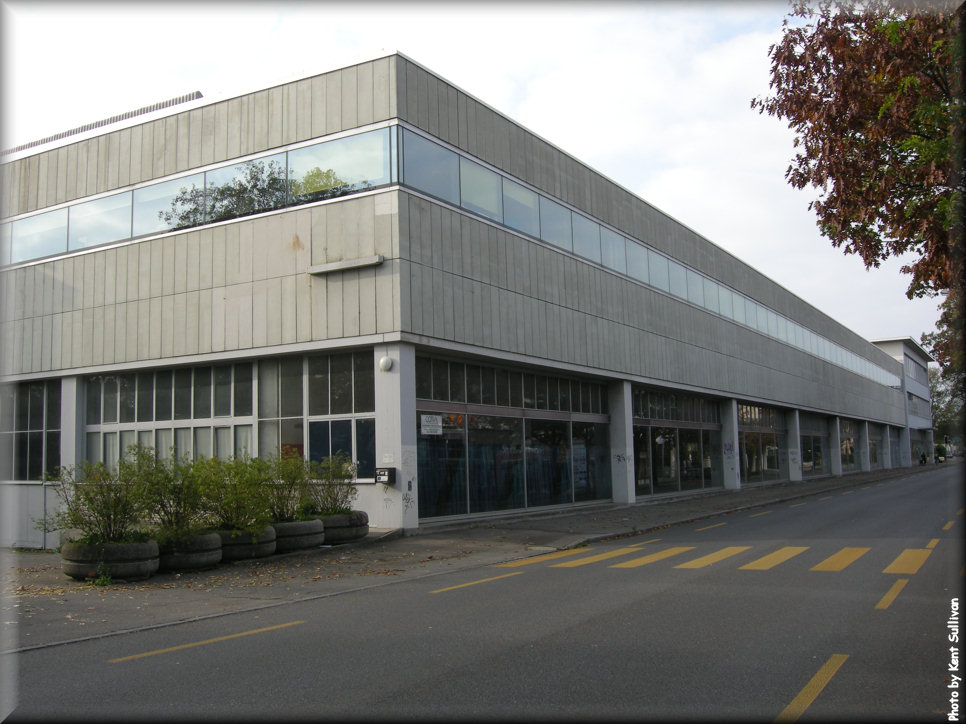 GM Suisse assembly building in Bienne (Biel).
Next, we drove just outside Bienne into the countryside and climbed one of Switzerland's famous mountain roads to the village of Plagne, to meet Jean-Robert and Anne-Marie Gerber. Jean-Robert owns a nicely-restored '65 Monza coupe that is a SUP from Oshawa. Marie-Anne ensured we were well-fed, of course. It was very pleasant to sit outside and enjoy the sunshine on a warm Sunday in October.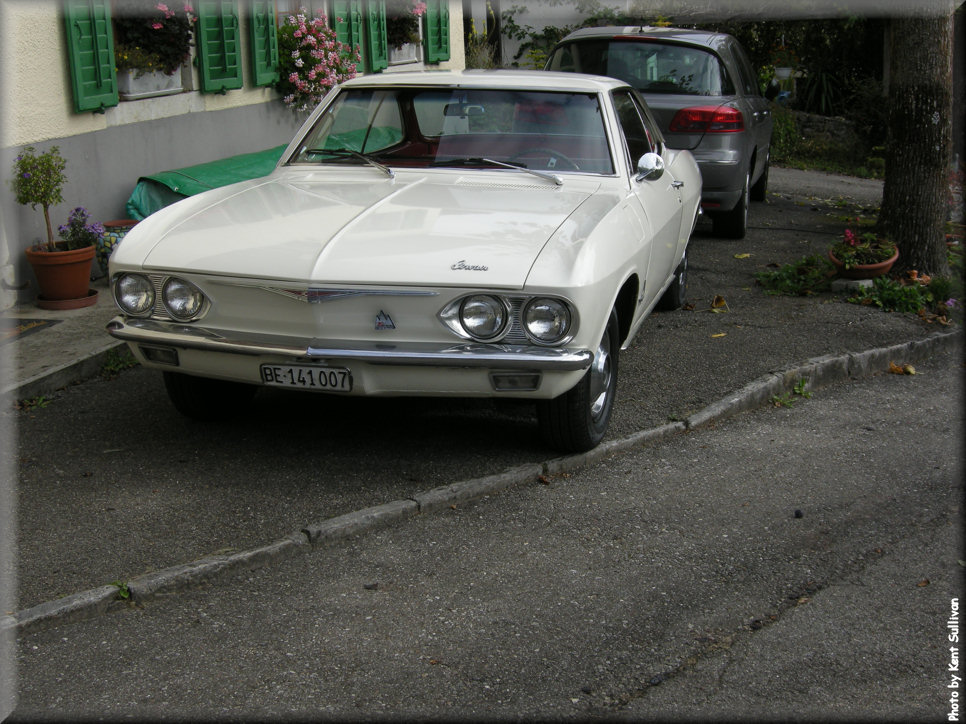 Jean-Robert Gerber's '65 Monza coupe, photographed at his house.
From Plagne, we motored north. There were more terrific mountain roads and scenery, which I tried to capture in a photo. The roads seemed to cling to the sides of the hill and the altitude drops were spectacular but hard to capture on film.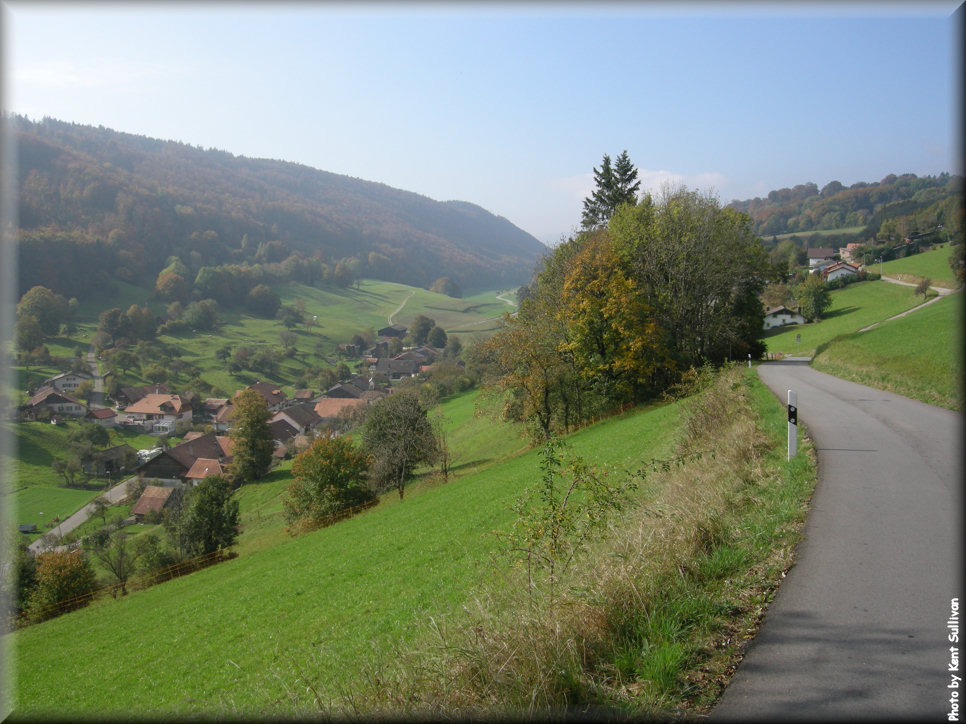 Scene along the road from Plagne to Vauffelin.
We drove back through Grenchen to the historic town of Solothurn (in the canton of the same name) to check out the nicely-preserved original walled city and to grab a bite to eat. We sat outside on a cobblestone lane that was hundreds of years old—unlike anything one could experience in the U.S.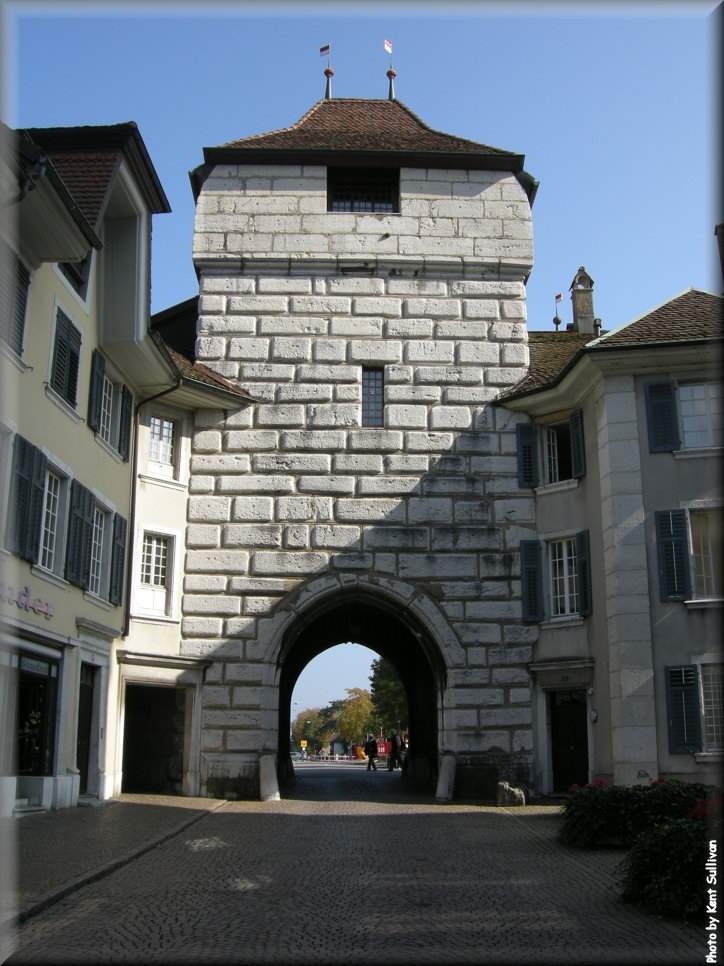 The north gate for the historic walled section of Solothurn.
After lunch and some more sightseeing we took a short drive further north to Wiedlisbach, home of long-time Corvair enthusiast Kurt Hirschi. Kurt has assembled an impressive collection of five Corvairs, all SUPs. He owns a '63 Monza coupe, a '63 Monza Spyder coupe, a '64 Monza convertible, a '65 Monza coupe, and a '66 Corsa coupe. The two '63s and the '66 are unrestored original cars in storage while the '64 and '65 are driven on a semi-regular basis. Unfortunately, Kurt's cars are stored away so expertly that it wasn't practical to get them out for full-length photos.
Urs and I then bounded back into the countryside for Sumiswald, home of Fritz and Agnes Zaugg. Fritz owns a Swiss-built '62 700 sedan (serial number 360[2]). We enjoyed a bottle of Swiss wine (with a special Corvair club label!) while we sat outside on their expansive patio overlooking a farming valley.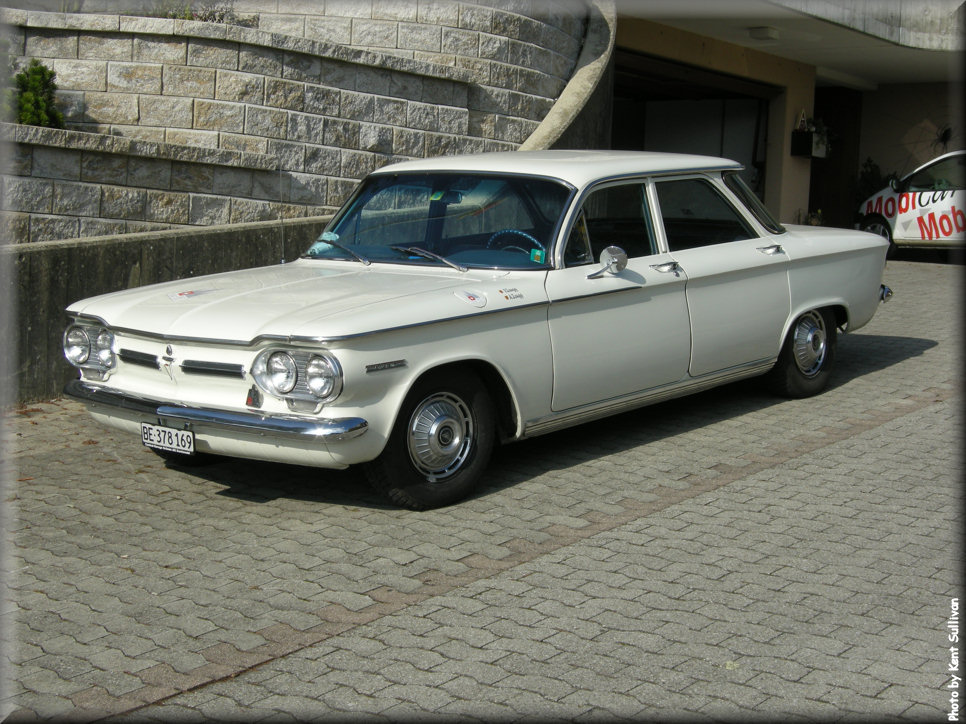 Fritz Zaugg's Swiss-built '62 700 sedan, photographed in his driveway.
On the spur of the moment, Fritz decided to call a nearby friend, Fritz Aeschlimann, an avid vehicle collector and history buff. We enjoyed an impromptu tour through his eclectic collection, which includes several different kinds of automobiles, a military Jeep, and even a motorcycle that was ridden by Steve McQueen in the movie Great Escape! It was a fitting end to two very full days of auto mania.
Day 3: Monday, October 8
Monday was a sad day because I had to leave my new-found friends in Switzerland to journey home. Urs took me to the train station and one of Switzerland's high-speed, efficient trains whisked me from Grenchen to Zurich, where I caught my flight back to the U.S. via Copenhagen.
Afterword
In addition to the many cars I saw on my two trips, Urs Tanner helped me greatly by meeting with Fritz Hirschi of Biel (Bienne) and photographing his amazing '63 700 sedan (serial number 81). The most amazing thing about this car is that Fritz helped assemble it! He was an employee at GM Suisse during its heyday.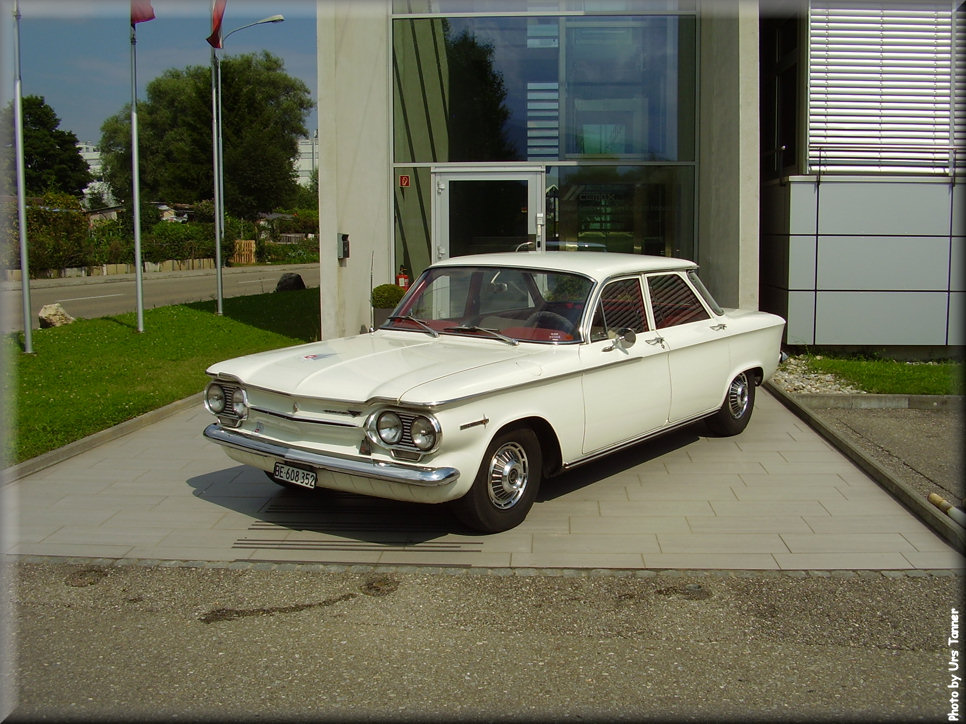 Fritz Hirschi's '63 700 sedan, photographed in front of Cemex Research Group AG in Brügg.
Ferdinand Hoffman of Lermoos, Austria, graciously provided information and pictures on his '67 500 sedan (serial number 25). Ferdinand has lovingly restored this car and done some customizing of it. It's quite amazing that two of the 48 Swiss-built Corvairs from 1967 have survived!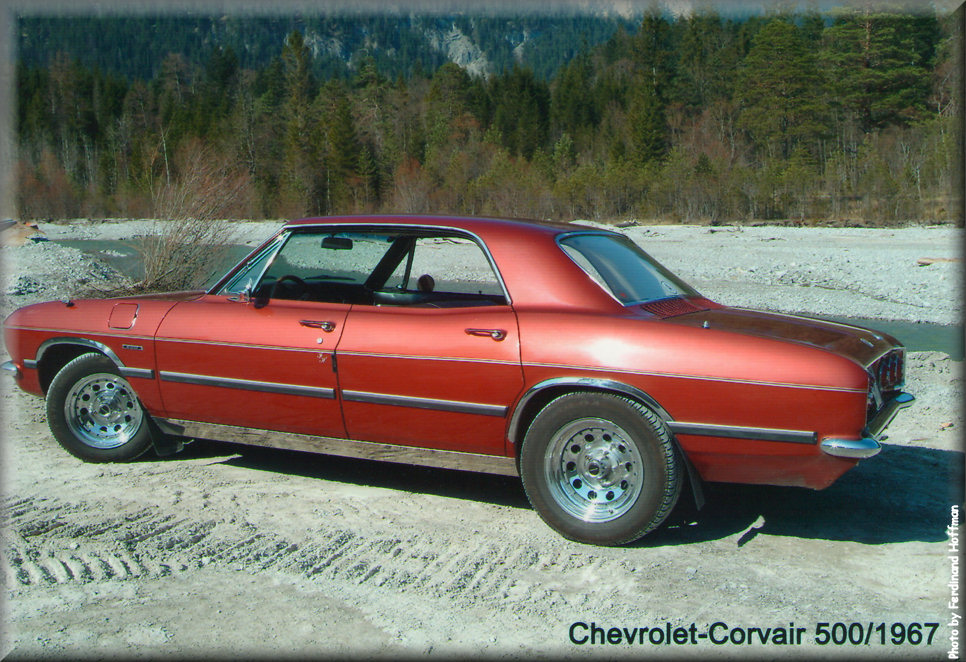 Ferdinand Hoffman's '67 500 sedan, photographed on a winter excursion.
In Part 2 we dive into what makes Swiss-built Corvairs different with a photo tour.
Special thanks to Bernhard Willi, Swiss Corvair Club president, for retrieving me from the airport and to his wife Hedi for providing a wonderful dinner and a place to sleep on my first night in Switzerland. As I mentioned, I also made a quick follow-up trip in April, 2008 and re-visited Jean-Philippe Bran. Many thanks to Jean-Philippe for taking time out his busy day from work at Bran Garage to help me poke and prod the Swiss Corvairs in his stable, and to his wife Cindy for a delightful lunch in their home and an opportunity to spend time with their two wonderful children.
Thanks also to Ansgar Grosse-Wilde and Robert Durff for helping me communicate with my German-speaking Swiss friends and Paul Bourgeau and Zoltan Szilagyi for helping me communicate with my French-speaking Swiss friends. They translated a lot of emails for me!
[1] All of GM's official materials always referred to this factory by the French spelling, never German or English.
[2] The production information that Dave Newell was able to obtain for GM Suisse does not include the 1960-3 model years.