A Canadian special
While Dave Beddome's '64 Rampside has the standard trim package, it definitely had "special" paint when it was shipped from the factory—the data plate proves it! (See below for more information.)
Dave, who lives in Calgary, Alberta, certainly drives one of the few active Rampsides in that city today!
I hope Dave has a chance to send in a story about his truck to accompany the picture! One thing we know for certain is that this rig was not among the seven imported by GM of Canada, so an individual must have taken it north later.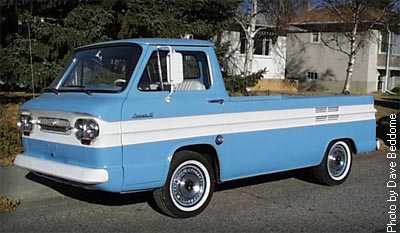 Information from the data plate
| | Description | | | | Description |
| --- | --- | --- | --- | --- | --- |
| STD | Standard equipment | SPEC | Special paint (*) | None | N/A |
(Click on a heading in the table for more information on that item.)
(*) The paint code on this truck is one of only two '64 Rampsides seen so far with "SPEC", the other being St. Louis truck 103258. "SPEC" typically reflects a fleet order with a color specific to the customer. The paint code on St. Louis truck 111357 is another way Chevy handled a fleet order; in that case a paint color standard to another type of vehicle.